Apple has stepped up its policy of removing apps from the App Store that violate its guidelines by sharing location data with third parties without explicit consent.
As noted by 9to5Mac, Apple appears to have ratcheted up its software scrutiny in the last few days by informing affected developers by email that upon re-evaluation, their app violates two sections of the App Store Review Guidelines and will therefore be removed from sale: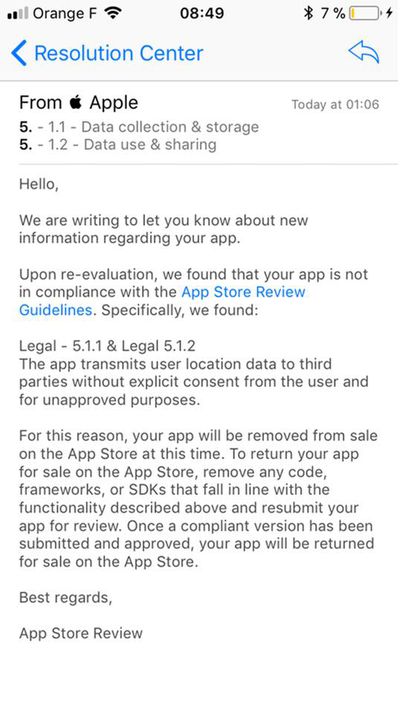 Apple finally decided to start enforcing guidelines on selling location data via @jeromep1970 pic.twitter.com/YKAWfMBq35 — Thomasbcn (@Thomasbcn) May 7, 2018
Legal - 5.11 & Legal 5.1.2
The app transmits user location data to third parties without explicit consent from the users and for unapproved purposes.
Apple's contention is that the apps in question don't provide enough clear information to users regarding what their data is used for and how it's shared once it's been collected. There also seems to be concern that the data collection isn't specifically for improving the user experience or enhancing app performance.
The company's retrospective action is likely related to General Data Protection Regulation (GDPR), which sets the rules for how businesses manage and share the personal data of customers.
GDPR is a European Union rule to protect EU citizens, but as with its website cookie consent policy, basically every company with an online presence is affected by the law. An updated version of the GDPR goes into effect on May 25 to underline this applicability. Interested readers can find a summary of the key changes to the regulations here.