Standalone VR Headset 'Oculus Go' Now Available for Purchase for $199
During the F8 Facebook Developer Conference this morning, Facebook CEO Mark Zuckerberg announced the launch of the Oculus Go, the latest virtual reality headset from Oculus, which is owned by Facebook.
Priced at $199, the Oculus Go is Oculus' first standalone VR headset, which Zuckerberg said represents the "first really affordable standalone virtual reality headset."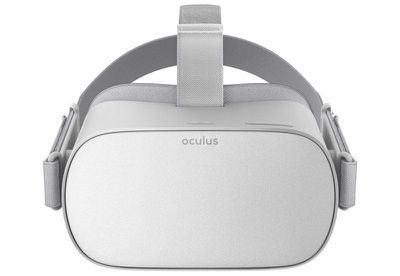 It's shipping with more than 1,000 apps, and it features the "highest quality lenses and optics" that Oculus has ever built into a VR device. Given its affordable price point, Zuckerberg says that it'll be the "easiest way to get into VR," and that the company expects this is how many people will experience virtual reality for the first time.
Design wise, the Oculus Go looks similar to the Oculus Rift. It's a VR headset that fits over the eyes and attaches to the head with adjustable straps and breathable fabrics. It is a standalone device, which means it does not require a connection to a computer or a gaming system to operate.


Oculus Go features a 5.5-inch display with a 2560 x 1440 resolution (1280 x 1140 per eye) and it runs using Qualcomm's Snapdragon 821 processor.
There are spatial audio drivers built into the headset to provide immersive sound, but it also includes a 3.5mm headphone jack to allow users to connect headphones if desired. The included controller translates natural movements into VR using a touch surface and a trigger button.
In a review, The Verge said that while the Oculus Go is not the "flashiest or most high-tech" headset on the market, it's the "best that simple mobile VR has ever been."
The Oculus Go does not feature a full motion controller or inside-outside tracking to allow users to walk around rooms sans external cameras, and it can be likened to the Samsung Gear VR but as a dedicated piece of hardware. Looking through the Oculus Go "isn't that different" than using a Gear VR, says The Verge, and the app library is similar.
The Oculus Go makes improvements to the Gear VR, but its biggest achievement is just making mobile VR content easier to access. It's a reasonably priced device that doesn't require having a specific phone, doesn't force you to clumsily lock that phone into another piece of hardware, and doesn't drain the battery that you might need for more important tasks. And as long as VR is still a labor of love, anything that reduces the "labor" factor is great news.
In other virtual reality news, Zuckerberg says Facebook is working on a new feature that would allow customers to recreate their childhood homes using computer vision and referencing old photographs. Facebook plans to work on mapping out immersive spaces and "creating a real feeling of presence.


Later this month, Oculus will also launch Oculus TV, allowing Oculus Go users to watch entertainment from services like Hulu, ESPN, Showtime, and more.
The Oculus Go can be purchased today from the Oculus website or from Amazon for $199 for 32GB of storage. 64GB of storage is available for $249.
The launch of the Oculus Go comes just days after rumors suggesting Apple is working on its own high-powered virtual and augmented reality headset that would be untethered from a smartphone or a traditional computer.
Apple's device will reportedly include 8K displays and a custom Apple-designed processor that's more powerful than anything currently available. Apple is said to be aiming to launch its AR/VR product in 2020.