Apple today previewed Final Cut Pro X version 10.4.1, an upcoming update to its professional video editing software.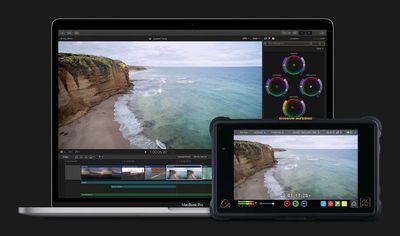 The headline feature is a new ProRes RAW format, which combines the visual and workflow benefits of RAW video with the performance of ProRes, a lossy video compression format developed by Apple for use in post-production.
With ProRes RAW, editors can import, edit and grade pristine footage with RAW data from the camera sensor, providing ultimate flexibility when adjusting highlights and shadows — ideal for HDR workflows. And with performance optimized for macOS, editors can play full-quality 4K ProRes RAW files on MacBook Pro and iMac systems in real time without rendering. ProRes RAW files are even smaller than ProRes 4444 files, allowing editors to make better use of storage while providing an excellent format for archiving.
The update also adds advanced closed captioning tools that allow video editors to view, edit, and deliver captions from right within the app.


Apple says Final Cut Pro users can import closed caption files directly into their project or create them from scratch. Captions appear in the viewer during playback and can be attached to video or audio clips in the timeline, so they automatically move with the clips to which they're connected.
Apple is also updating Final Cut Pro's companion apps Motion and Compressor with ProRes RAW and closed captioning features respectively.
Final Cut Pro 10.4.1 will be available April 9 as a free update for existing users, and the app remains $299.99 for new users on the Mac App Store in the United States. Motion 5.4.1 and Compressor 4.4.1 will also be available on April 9 as free updates, or $49.99 each for new users from the Mac App Store.
Apple has updated its Final Cut Pro X, Motion, and Compressor pages on its website with more detailed information.