Apple has updated its special enterprise-focused version of iTunes that still has a built-in App Store for those who need it.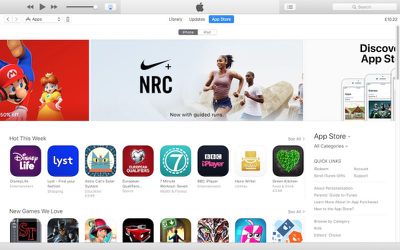 Download links for iTunes 12.6.4.3 have been quietly made available in an Apple support document related to deploying iPhone and iPad apps in a business environment with iTunes on Mac or Windows PCs.
The update was prepared on March 20 and released on Tuesday, according to German blog iFun.de. The version doesn't include new release notes, so it is likely a minor update with bug fixes and stability improvements.
Apple removed the App Store in iTunes 12.7 last September, but it released iTunes 12.6.3 shortly afterwards for business customers or anyone who might still need to use the desktop software to install iOS apps.
Those who have already downloaded iTunes 12.6.3 will likely not be prompted about the iTunes 12.6.4.3 update, so they'll have to update manually by downloading and installing the new version from Apple's support document.
iTunes 12.6.4.3 can be downloaded by anyone, including those who have already installed iTunes 12.7. If at any point users want to update to iTunes 12.7.4 or later, they can do so manually from the main iTunes download page.