Apple Working With TSMC to Develop MicroLED Panels for Future Apple Watch and Augmented Reality Wearable Device
Apple has plans in place to develop MicroLED panels for both small-size and large-size devices, with Taiwan Semiconductor Manufacturing Company (TSMC) providing support for producing smaller form factor applications, which could include future Apple Watch models and AR wearables, according to DigiTimes senior analyst Luke Lin.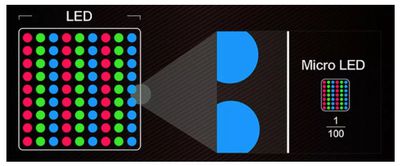 Apple is working with TSMC to develop micro LED panels on silicon-based backplanes for use in the Apple Watch and an augmented reality (AR) wearable device, Lin noted.
MicroLED panels use different light-emitting compounds than the current OLED displays and should help to make future devices slimmer, brighter, and less power-hungry. Citing sources in the upstream supply chain, Lin claims Apple is preparing two sizes of MicroLED panel for small devices. They are said to include a 1.3 to 1.4-inch panel for future Apple Watch iterations and a 0.7 to 0.8-inch panel for an AR wearable device, potentially AR glasses.
Lin also believes Apple is working on developing large-size MicroLED panels on TFT-based backplates for use in products much larger than those in its current MacBook lineup, although he offered no specifics on what they might be.
Based on Lin's sources, the MicroLED panel destined for a future Apple Watch may enter mass production in the second half on 2018 or in 2019, which would suggest its use in Series 4 or 5 models. The large-size panel could see production in 2019 or later, while the panel for the AR device is yet to have a production schedule, according to the analyst.
The cost of the new MicroLED panels are said to be 400-600 percent higher than OLED panels used in the current Apple Watch. As such, Lin believes Apple will initially only use the MicroLED panel in future "top-of-the-line" versions of Apple Watch, although whether that refers specifically to iterations of the Apple Watch Edition remains unclear.
Apple is understood to own a manufacturing facility in Santa Clara, California, where it is designing and producing test samples of its own MicroLED displays, with a view to eventually replacing largely Samsung-made OLED displays currently used across its product range.
Apple's interest in the technology was revealed in its acquisition of MicroLED firm LuxVue back in 2014 and previous reports have also claimed Apple will introduce MicroLED technology in the Apple Watch first, with some rumors pointing to that happening as soon as this year.
However, Bloomberg believes that it will likely be a few years before Apple's MicroLED displays will appear in shipping products – perhaps two years for the Apple Watch and three to five years for the iPhone.