Apple's Elk Grove Repair Facility Makes ~20 Accidental 911 Calls a Day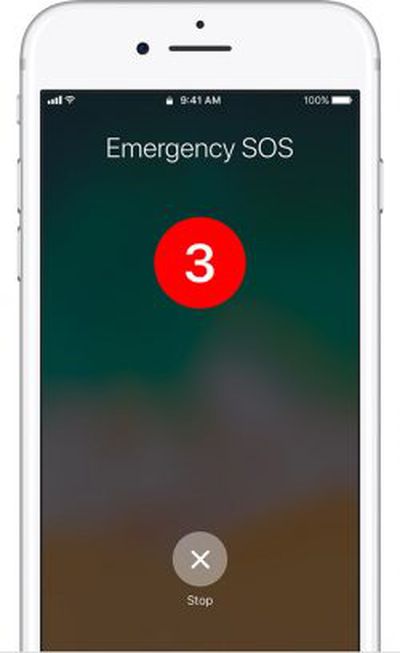 Repair technicians who work at Apple's repair facility in Elk Grove, California make frequent accidental 911 calls when testing Apple devices, Elk Grove police dispatcher Jamie Hudson told a local Sacramento news site.
The influx of calls started back in October of 2017, which coincides with the introduction of the Emergency SOS feature that was added to the iPhone with the launch of iOS 11.
"We've been seeing these calls for the last four months from Apple," said police dispatcher Jamie Hudson.

Dispatchers say the calls started back in October of 2017, and typically there's no one on the other line.
To activate Emergency SOS, iPhone 8 and iPhone X simply owners need to press and hold on the Side button while also holding the two volume buttons at the same time, or rapidly press on the side button five times. Older iPhone users simply need to press the Sleep/Wake button five times in rapid succession to call emergency services.
An Emergency SOS feature is also available on the Apple Watch and is activated by pressing on the side button of the device. It's not clear which devices are making the accidental calls, but placing a 911 call can be done with simple button presses on either device.
Elk Grove Police have received an average of 20 accidental 911 calls per day from Apple, adding up to about 1,600 calls since October. Police dispatcher Hudson says the calls take "valuable seconds" away from real 911 calls that could be life and death situations.
"The times when it's greatly impacting us is when we have other emergencies happening and we may have a dispatcher on another 911 call that may have to put that call on hold to triage the incoming call," he said.
It's not just the Elk Grove Police department that's affected -- the Sacramento County Sheriff's Department Communication Center has also received 47 accidental 911 calls since January 1, and sometimes, dispatchers can hear technicians working in the background. There is a loud tone and a countdown that plays when Emergency SOS is activated with the auto call feature, but it may be that repair technicians are not able to hear it.
In a statement, an Apple spokesperson said the company is aware of the 911 calls coming from the repair facility and is working with law enforcement officials to put a stop to it.
"We're aware of 911 calls originating from our Elk Grove repair and refurbishment facility. We take this seriously and we are working closely with local law enforcement to investigate the cause and ensure this doesn't continue."
Emergency SOS is a feature that's enabled on every iPhone and Apple Watch by default, and it can't be disabled, so Apple may need to come up with a unique solution for its repair facilities.
While Emergency SOS can't be turned off, there are settings that can be turned on to cut down on accidental calls. On Apple Watch, "Hold to Auto Call" can be disabled by opening up the Watch app, choosing the "General" section in "My Watch" and then selecting "Emergency SOS."
On iPhone, auto call can be disabled by opening up the Settings app, navigating to "Emergency SOS" and toggling off "Auto Call."


With Auto Call disabled on iPhone or Apple Watch, the same button presses will still activate emergency services, but you will need to use physical interaction in the form of a finger sliding across the screen to call 911 (or other emergency services numbers depending on your country).
Emergency SOS was recently credited with saving a woman and her 9-month old baby after she was hit by a drunk driver. The woman lost her phone in the collision, but was able to use the SOS feature on her Apple Watch to make an emergency call.
In addition to contacting 911, Emergency SOS serves another important purpose on the iPhone -- it quietly and discreetly disables both Touch ID and Face ID, allowing iPhone users who are being threatened to lock down their phones and require passcode entry instead of biometrics.