iOS 11's SOS Feature Allows You to Temporarily Disable Touch ID and Require Passcode
In iOS 11, Apple has added an "Emergency SOS" feature that's designed to give users a quick and easy way to summon emergency services should the need arise. As it turns out, there's a secondary benefit to Emergency SOS - it's also a way to quickly and discreetly disable Touch ID.
Emergency SOS is activated by pressing on the sleep/wake button of an iPhone five times in rapid succession. When the requisite number of presses is complete, it brings up a screen that offers buttons to power off the iPhone, bring up your Medical ID (if filled out) and make an emergency 911 call.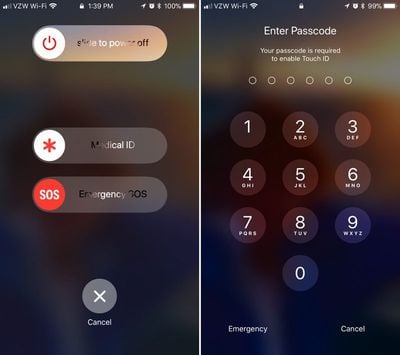 Along with these options, there's also a cancel button. If you hit the sleep/wake button five times and then hit cancel, it disables Touch ID and requires a passcode before Touch ID can be re-enabled. Touch ID is also disabled if you actually make an emergency call.
This is a handy hidden feature because it allows Touch ID to be disabled discreetly in situations where someone might be able to force a phone to be unlocked with a fingerprint, such as a robbery or an arrest. With Touch ID disabled in this way, there is no way to physically unlock an iPhone with a finger without the device's passcode.
It's also worth noting that there's no real way to tell that Touch ID has been disabled in this manner. Once you hit the sleep/wake button and then tap cancel, it's locked in the same way and with the same message that the iPhone uses when it's been more than 48 hours since a device was last unlocked with a fingerprint.
Apple's Emergency SOS feature will be available on all iPhones that run iOS 11. Along with disabling Touch ID, SOS can also be used to summon emergency services and alert your emergency contacts when an accident occurs.
iOS 11 is available to developers and public beta testers at the current time and will be released to the public in September alongside new iPhones.