Indian Character Bug Causing System Crashes is Fixed in iOS 11.3 and macOS 10.13.4
A recently discovered bug that causes app and system crashing on iPhone, iPad, and Mac due to a specific letter in the Indian language Telugu has been fixed in Apple's upcoming iOS 11.3 and macOS 10.13.4 software updates.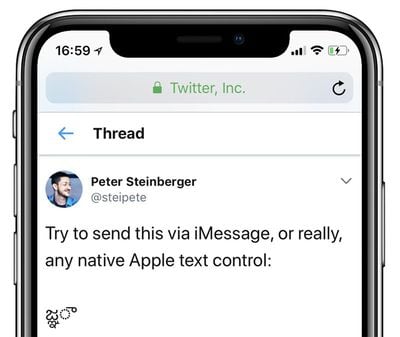 MacRumors has not been able to reproduce any crashes, freezes, or resprings on any devices running the latest iOS 11.3 and macOS 10.13.4 betas when the particular letter is present anywhere across the systems, as the upcoming software versions can now display the affected character properly.
On earlier software versions, including the latest publicly released versions iOS 11.2.5 and macOS 10.13.3, it appears that Apple devices are unable to render the Indian character for some reason, causing apps or the entire system to abruptly crash depending on where it is trying to be displayed.
If the character is sent in an iMessage, for example, the recipient's Messages app will crash when the conversation is opened. Likewise, if the character is pasted into the Safari or Chrome address bar on Mac, the browsers crash. This behavior extends to virtually any system text field on iOS and macOS, resulting in many third-party apps like WhatsApp and Facebook Messenger being affected as well.
Even worse, some users have found that if the character is displayed in an iOS notification, it can cause an entire iPhone or iPad to respring, and in worst-case scenarios, restoring in DFU mode is the only possible solution.
If you've already received the letter and can no longer open Messages, try having a friend message you, which may allow you to regain access to the app and delete the conversation with the bad character. If not, consider enrolling in Apple's free public beta program and upgrade to iOS 11.3 or macOS 10.13.4 beta.
MacRumors was alerted about this bug by developer Peter Steinberger on Monday, and it was submitted to Open Radar by developer Igor Bulyga on the same day. We elected not to report on the bug at the time to avoid contributing to its spread, since it can be used maliciously and a fix will be widely available soon.
The bug has received widespread attention today, so we wanted to acknowledge that Apple is aware of the issue and has implemented a fix. iOS 11.3 and macOS 10.13.4 should be publicly released by the end of March, but it's very possible we'll see minor updates pushed out with fixes in the near term.
These kinds of bugs have surfaced several times in the past, with text strings, videos, and more crashing the Messages app and causing other glitches. Just last month, a link to a GitHub page surfaced that froze the Messages app when received.