KGI: Apple Could Ship 100 Million Units of New 6.1-inch LCD iPhone, Replacing iPhone 8 and 8 Plus in 2018 Device Line-up
KGI Securities analyst Ming-Chi Kuo today shared shipment projections with MacRumors for Apple's rumored 6.1-inch iPhone that he expects to launch in the second half of 2018.
The device is said to have some iPhone X features such as Face ID, but design compromises will enable Apple to put it at a more affordable price point. They could include an LCD screen instead of an OLED display, an aluminum frame, a single lens camera, and no 3D Touch.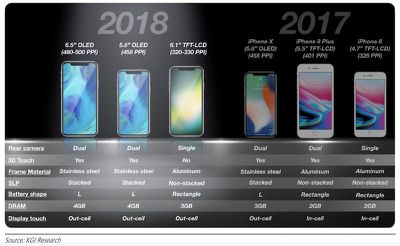 We project shipments under the new product life cycle (4Q18-3Q19) for the 6.1" LCD iPhone, estimated to be launched in 2H18, will reach around 100mn units.
According to Kuo's research note, shipment projections could fluctuate depending on the selling price of the 6.1-inch LCD iPhone, which Kuo believes will be somewhere between $700 and $800 in the United States. In his analysis, shipments will be around 105-115 million units when priced at US$699, and 95-105 million units when priced at US$799.
The price could also depend on "whether Apple ultimately sees the new 6.1-inch LCD model as the successor of iPhone 8 or 8 Plus," according to Kuo. In a previous note, KGI Securities has said the 6.1-inch iPhone will have a standard non-stacked logic board and rectangular battery pack like the iPhone 8 and iPhone 8 Plus.
Kuo expects the 6.1-inch LCD iPhone to account for around 50 percent of the new iPhone line-up's shipments, with sales remaining strong into 2019. On that basis, today's shipping estimate suggests lifetime sales of 2018 iPhones could reach approximately 200 million units.
The device is expected to be announced around September-October as usual alongside a new 5.8-inch iPhone X and a larger 6.5-inch version dubbed iPhone X Plus.