Apple News Introduces Coverage Portal of 2018 Winter Olympics in Partnership With NBC
Apple News will be a go-to source for coverage of the 2018 Olympic Winter Games in Pyeongchang, South Korea, which officially begin with Friday's opening ceremony, although some competition is already underway.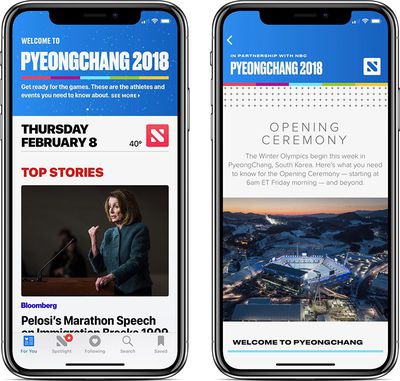 A new section devoted to the Winter Olympics is now available within the "For You" tab of Apple News in the United States, and it will feature articles, videos, and other coverage of the games over the next two weeks.
Apple has partnered with NBC for the new section, but coverage will be provided from a variety of sources, according to Ingrid Lunden at TechCrunch. Live streams and full replays of specific events will link directly to the NBC Sports app, while clips from events will be viewable within Apple News itself.
The portal will also feature a planner for viewers to figure out when specific events are scheduled, and it will allow users to add events they want to watch to their calendars. There will also be a medal tracker and daily roundups given a 14-hour-plus time difference between South Korea and the United States.