KGI: Larger-Sized iPhones Coming This Year Will Offset Weakening Demand for iPhone X in China
Weaker-than-expected demand for iPhone X in China has led market analysts to revise down shipments for the first half of 2018, but larger-sized iPhone models in the pipeline should see Apple grow its overall worldwide shipments year-on-year, according to KGI Securities analyst Ming-Chi Kuo, who shared the information in a new research report obtained by MacRumors.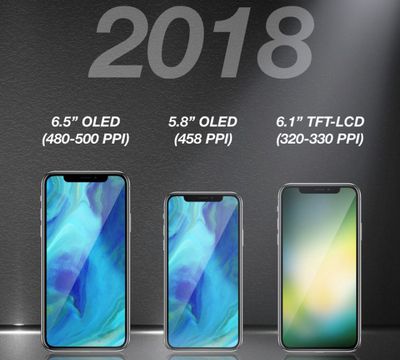 We revise down 1Q18 and 2Q18 shipments of iPhone X to 18mn units and 13mn units, respectively, lower than market consensus of 20-30mn and 15-20mn units. We expect iPhone X will go to end of life (EOL) around mid-2018 and that total life cycle shipments will be around 62mn units, lower than our previous forecast of 80mn units.
Two main reasons are given for the weaker-than-expected demand for iPhone X in China. First, in Q4 2017, consumers were willing to wait on average 10 months longer before replacing their existing phones, compared to shorter replacement cycles in the year-ago quarter. In Q4 2016, smartphone users upgraded after between 14 and 16 months of ownership, compared to between 24 and 26 months in Q4 2017. The numbers are said to be reflected in lower shipment forecasts by Chinese phone makers for the second half of last year.
The second big factor is said to be Chinese consumers' penchant for larger displays. According to Kuo, the notched design on the iPhone X isn't yet compatible with many popular Chinese apps, leading many customers to see it as offering less usable screen space than 5.5-inch iPhone Plus models. This confusion, coupled with the high price of iPhone X, is thought to have undercut replacement demand.
Despite the downward revisions in shipments for the first half of this year – and Kuo's moot point that Apple might end iPhone X sales in the summer – Kuo believes overall iPhone shipments will maintain year-on-year growth of 0-5 percent over the first half of 2018, mainly thanks to Apple's corrected supply chain share. However, Kuo thinks Apple's next product line-up will significantly improve competitiveness in the second half of the year, when Apple's "real super cycle" will kick in.
Kuo has previously predicted Apple will introduce three iPhones in 2018: an OLED model that measures in at 5.8 inches like the current iPhone X, an OLED model that measures in at 6.5 inches that will serve as a sort of "iPhone X Plus," and a 6.1-inch model that features an LCD display. Kuo believes all three models will be equipped with a full-screen notched design and TrueDepth camera system like the iPhone X.

We believe the addition of 6.5-inch OLED and 6.1-inch LCD iPhone models will boost Apple's market share in China, and that the US$650-750 6.1-inch LCD iPhone will make it easier for users worldwide to own a 3D sensing and full-screen design iPhone which offers an innovative user experience.
For these reasons, Kuo believes iPhone shipments will grow 5-10 percent year on year over 2018. Kuo's estimate is better than the market consensus of overall smartphone shipment growth worldwide, which is expected to experience between a 5 percent decline and 5 percent growth. As a result, KGI retains a positive outlook for the iPhone supply chain in the second half of 2018.