Office for Mac today received a major update, with Microsoft updating the software to version 16 and introducing new features for Word, Excel, PowerPoint, and Outlook.
In Word, Excel, and PowerPoint, Microsoft is introducing real-time collaborative editing, allowing multiple people to work on the same document at the same time. In Word and PowerPoint, flag icons will let you know what others are working on and what's been changed.
Changes to documents, worksheets, and presentations stored in the cloud will be saved automatically, and updates will be synced in seconds. A version history will let you roll back to earlier versions of a document if necessary.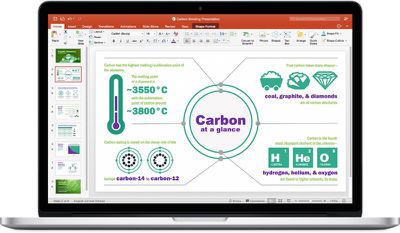 Quick access to sites and groups has also been included, with presentations, documents, and worksheets stored in the frequently used sites and groups section in the Open menu.
In addition to collaborative editing, Excel is gaining new chart types, additional functions, improved support for PivotTable charts, and multi-threaded calculation for faster formula updating when values are changed.
PowerPoint includes a QuickStarter function that lets you create an outline complete with suggested talking points and designs, while a new Trim Media tool will let you quickly edit audio and video clips. The mouse can also be used as a laser pointer in Slide Show for highlighting slide content.
Outlook, Microsoft's email app, is gaining a new feature that will let you archive or delete emails with a swipe across the touchpad, and support for Google Calendar and Contacts has been added.
Along with these feature changes, version 16 of Office 2016 for Mac includes an overhaul of the underlying code for Office, PowerPoint, and Excel, introducing more common code between platforms to ensure better feature parity.
Full details on what's new in Office for Mac can be found in the release notes shared on Microsoft's Office 2016 for Mac support site.