BMW Plans to Turn CarPlay Into Subscription-Based Service Next Year
BMW plans to offer CarPlay as a subscription-based service beginning next year, rather than charge a one-time fee, reports The Verge.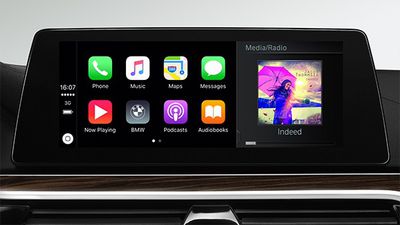 The automaker will charge $80 per year for access to CarPlay starting next year, with no fee during the first year of ownership of a new BMW, according to Don Smith, technology product manager for BMW North America.
BMW currently charges a $300 upgrade fee to drivers who want CarPlay, available in its 2017 model year and newer vehicles.
Smith believes switching to a subscription-based pricing system will provide BMW owners with more flexibility. "This allows the customer to switch devices," he said, while mentioning Android as a specific example.
BMW doesn't currently support Android Auto, although Smith said Google Assistant is coming to new BMW models later in 2018.
Smith also argued that the annual fee could actually work out to be cheaper for somebody with an average length lease, as the total cost after four years after the free first year of access would be $240, cheaper than the one-time $300 charge.
Of course, those who don't trade in their BMW once every four years can expect the CarPlay subscription fees to add up significantly over the long term. All the while, many other automakers now offer CarPlay as a standard feature.
BMW may ultimately decide against this idea if it receives enough negative feedback from customers, but we'll have to wait and see.