At CES on Tuesday, third-party accessory maker Matias announced an RGB-backlit wired aluminum keyboard for Mac. Inspired by Apple's own, now defunct wired keyboard, Matias' silver and space grey versions look almost identical, except for the addition of a "color dial" on the back and a dedicated key on the layout that allow users to incrementally shift the backlighting through the color spectrum.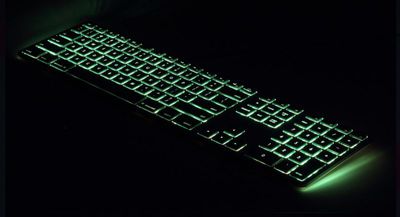 Citing a Harvard sleep study, Matias notes that too much blue-light exposure at night is known to negatively impact melatonin levels, which can shift the body's natural time clock — leading to poor sleep and various other health issues. However, the existence of the rotary color dial on its latest keyboard means users can dial back the blue component of white light when they're working late into the evening.
The RGB keyboard features Apple-style function keys to let users control screen brightness, volume, iTunes, and so on, and also includes a built-in USB 2.0 port underneath on the right hand side, for connecting a wired mouse or wireless dongle.
The keyboards cost $99 each and will be available in a wide range of international layouts (US, EU, and Asian). They can be pre-ordered now from the Matias website, with free shipping to the U.S. and Canada, for delivery in late February.