Incase today announced the upcoming launch of a new IconConnected Power Sleeve for the MacBook Pro, which is designed to be an all-in-one protection and power solution for Apple's latest notebook computers.
The IconConnected Power Sleeve combines the protection of the Incase Icon sleeve with a built-in battery that's able to provide additional power to a MacBook Pro right from the case. The Power Sleeve features a built-in 14,000mAh battery with a USB-C port and an included USB-C charging cable.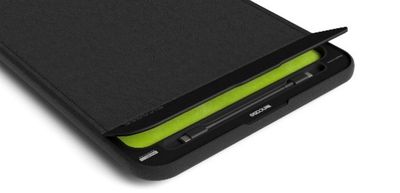 In addition to being able to charge a MacBook Pro, the Power Sleeve also includes a USB-A port that can be used to charge iPhones, iPads, and other USB devices.


According to Incase, the Power Sleeve is able to provide more than one charge to the MacBook Pro, and multiple charges for devices with smaller batteries like the iPhone and iPad.
"For over 20 years, Incase has created innovative solutions that provide a better experience for Apple users through good design, with a rich heritage in MacBook protection and most recently, with an emphasis on connected solutions," said Paul Okui, Vice President of Product, Incase. "The IconConnectedTM Power Sleeve bridges the Incase connected and protection product ecosystems into one refined, powerful sleeve designed to meet the evolving demands of today's MacBook Pro users."
The Power Sleeve will be available for both 13 and 15-inch MacBook Pro models with USB-C ports, and when it launches in the third quarter of 2018, it will be priced at $199.95.