Last month, LG announced a new set of Thunderbolt 3 monitors to be officially unveiled at CES 2018. Not to be outdone at the January event, Samsung today unveiled the first curved display with Thunderbolt 3 connectivity.
The 34-inch CJ791 monitor features a 3,440 × 1,440 UltraWide QHD resolution with a 21:9 aspect ratio, while the single Thunderbolt 3 cable delivers a connectivity speed of up to 40 Gigabits per second to a range of docks, displays, and peripheral devices, including Macs and external GPUs. The Thunderbolt 3 interface also allows the CJ791 to supply up to 85 watts (W) of charging power to USB type-C compatible MacBooks.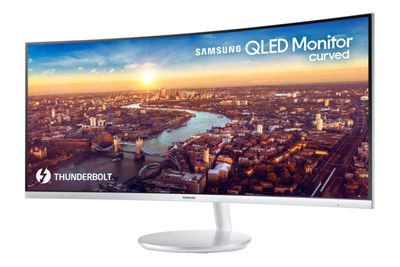 The specs can't quite match LG's upcoming 34-inch UltraWide 34WK95U, which has a 5K resolution of 5120 x 2160 pixels, but apart from multi-peripheral connectivity, Samsung is eager to promote the CJ791's QLED display as ideal for gaming and entertainment. With "precise" performance across 125 percent of the sRGB color spectrum, a 4 milliseconds response time, and a sharp 1,500R curvature and ultra-wide 178-degree viewing angle, the CJ791 should still turn some heads at this year's CES. The company is also touting the monitor's built-in Game Mode, with a dynamic gamma setting that allows the CJ791 to adjust the color and contrast of individual scenes as they're displayed.
There's no word yet on the price of the 34-inch CJ791, but hopefully more should be revealed when CES opens its doors on January 9 for four tech-filled days at the Las Vegas Convention Center. Stay tuned to MacRumors for all the highlights.