LG Announces Upgraded Set of Monitors With Full Thunderbolt 3 Compatibility
Following previous Mac-supported displays that boasted USB-C and some Thunderbolt 3 compatibility, LG today announced a new set of monitors that all include full Thunderbolt 3 support. The news comes ahead of CES 2018, where LG will officially introduce the three new upgraded models of its popular monitor lineup. Apple and LG originally teamed up to create 4K and 5K UltraFine Displays aimed at the late 2016 MacBook Pro models.
The first monitor is a 32-inch UHD 4K model (named LG 32UK950) and offers LG's advanced Nano IPS technology, which the company said will enhance the "intensity and purity" of on-screen colors so that viewing experiences are more life-like. This monitor can display 98 percent of the DCI-P3 color spectrum and supports HDR 600, all making it comparable to monitors used to master Hollywood films, according to LG.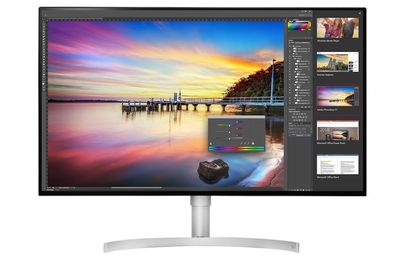 LG 32UK950 also features a Thunderbolt 3 docking display so that it can be daisy chained and be part of a dual 4K monitor setup. It can connect to Apple computers like MacBook Pro through a Thunderbolt 3 cable, transmitting 4K content, sound, and fueling up the connected MacBook (with enough charge to power a 60W notebook).
The second monitor is the LG 34WK95U, a 34-inch UltraWide monitor with wider viewing angles than the previous device, increased 5K resolution of 5120 x 2160 pixels, and a 21:9 aspect ratio. LG is aiming this monitor at customers who "extensively" multitask during their workflow, including video editors, photographers, and software and app developers.


Just like the first monitor, the 34WK95U supports Nano IPS technology, HDR 600, and a Thunderbolt 3 port that can transmit 5K resolution images at 60Hz, along with data and power, through a TB3 cable connected to a compatible MacBook Pro.
The third and final monitor (LG 34GK950G) is given the least amount of detail in LG's announcement, being described as the company's latest QHD gaming monitor. This one offers the same Nano IPS technology for premium picture quality when running games, as well as high-speed G-Sync technology. No other details about the 32GK950G monitor were given.
CES will officially begin on January 7, 2018, so more information on the prices and launch dates of LG's monitors will be coming soon in the new year, along with many other new technology and product announcements. For more on LG's current monitors, check out MacRumors' reviews of the 27UD88, UltraFine 5K, and 38UC99 curved "UltraWide" displays.