Apple Will Reduce iPhone 7 Production By 10% in Early 2017 Due to 'Sluggish' Sales
Apple plans to reduce production of the iPhone line by 10 percent beginning in the first quarter of 2017, according to supplier data collected by Nikkei. Apple is said to have experienced a similar situation thanks to accumulated inventory of the iPhone 6s late in 2015, which also caused it to lower output of that smartphone in Q1 2016.
The company attempted to prevent the same thing from happening again with the iPhone 7 by curbing production quantities on the 2016 smartphone, but even with that preemptive move Apple is again looking at a manufacturing downturn for its flagship iPhone line in the new year.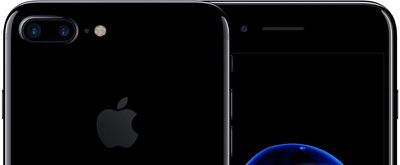 In the report, Nikkei cites "sluggish" global sales for the iPhone 7 as the main reason behind the move. Because of this, the production cuts are expected to be focused on the iPhone 7 and iPhone 7 Plus.

Apple will trim production of its iPhone family around 10% on the year in the first quarter of 2017, according to calculations by The Nikkei based on data from suppliers.

...the phones still have sold more sluggishly than expected. Information on production of the latest models and global sales suggests cuts in both the 7 and 7 Plus lines in the coming quarter.
Apple could have capitalized on Samsung's Galaxy Note7 problems earlier in the year, but according to a collection of analysts the iPhone 7 lacked "compelling" features and failed to garner interest in the new smartphone line. In September, Apple made the decision not to divulge the first weekend sales for the iPhone 7 and iPhone 7 Plus. Throughout the year, a "doom and gloom" sentiment has followed the company ever since it reported its first revenue decline in thirteen years.
Later in 2017, Apple will launch the next-generation iPhone, which is currently rumored to come in three different sizes, one of which will include a flexible OLED display with a bezel-free design. Rumors are still conflicting, however, with a report from Mac Otakara suggesting that next year's iPhone could be an iterative update on the design of the iPhone 7 with beefed up internals.