Alongside the iMac Pro, Apple today updated its online store to add an Apple-branded 0.8m Thunderbolt 3 cable, which is the first Thunderbolt 3 cable Apple has offered that isn't manufactured by a third-party company.
The cable is priced at $39, which is more expensive than a similar Belkin Thunderbolt 3 cable also available from the Apple website for $29.95.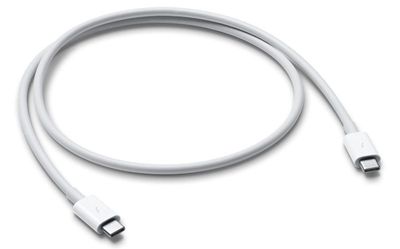 Apple's Thunderbolt 3 cable offers TB3 data transfer speeds up to 40Gb/s and USB 3.1 Gen 2 data transfer speeds of up to 10 Gb/s, along with DisplayPort video output (HBR3) and charging up to 100W.
Aside from a Thunderbolt logo located at either end of the cable, there is no branding. It is, however, designed in the same style as Apple's traditional USB-C and Lightning cables.
The Thunderbolt 3 cable is compatible with all USB-C Thunderbolt 3 Macs, including the latest iMac Pro, iMac, and MacBook Pro models.