Amazon to Resume Selling Apple TV and Chromecast
Amazon has decided to once again sell the Apple TV and Google Chromecast in its online store, reports CNET. An Amazon spokesperson confirmed that the company is officially offering the two products as of today.
"I can confirm that we are assorting Apple TV and Chromecast," CNET was told.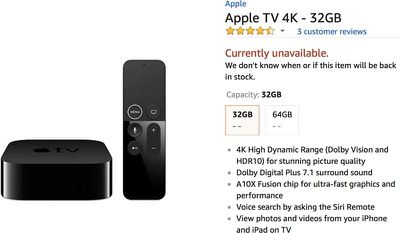 There are new product pages for the 32GB fourth-generation Apple TV, the 32GB Apple TV 4K, and the 64GB Apple TV 4K. There are also two listings for the Chromecast and the Chromecast Ultra.
All of the products are listed as "Currently unavailable" right now, but that is likely to change soon after the listings are completed and propagated to Amazon's site.
Amazon first stopped selling the Apple TV and the Google Chromecast in its online store in 2015, claiming the reason for the removal was incompatibility with the Amazon Prime Video streaming service.

"Over the last three years, Prime Video has become an important part of Prime," Amazon said in the e-mail. "It's important that the streaming media players we sell interact well with Prime Video in order to avoid customer confusion."
Since then, the Apple TV has been unavailable on Amazon's site, but Amazon's original reason for not selling the Apple TV was invalidated with the launch of the Amazon Prime Video app for Apple TV.
Amazon last week introduced a long-awaited Amazon Prime Video app for the Apple TV. The new app is available on third, fourth, and fifth-generation devices.
The return of the Chromecast to the Amazon site comes after Google once again removed YouTube from the Amazon Echo Show and the Fire TV. Google said Amazon's refusal to carry the Chromecast and Google Home and its refusal to make Prime Video available for Google Cast was a key reason that it stopped supporting YouTube on Amazon's products.