Fake 'MyEtherWallet' App Rises to #3 Spot on the iOS App Store's Finance Charts [Updated]
An unofficial iOS app for MyEtherWallet.com rose to the top of the App Store over the weekend, nabbing the third spot in the Finance category after being on the storefront for a little over a week (via TechCrunch). MyEtherWallet.com is a popular service made for storing cryptocurrencies but it doesn't have an official iOS app, so the company tweeted out a warning for users to not be fooled by the "MyEtherWallet" iOS app, as well as asking for Apple to remove it from the App Store.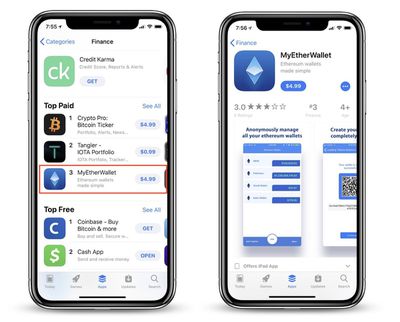 At the time of writing, MyEtherWallet still remains at #3 on the App Store's Finance chart. The app lists its developer as Nam Le, who has two other iOS apps -- "Panda Warrior: Kung Fu Awesomeness" and "Mr. Beard: Icehole Fishermans" -- and one Apple Watch app called "Wrist Count." MyEtherWallet costs $4.99 and its App Store page says that it allows users to anonymously manage their ethereum wallets, create wallets offline, and store wallet keys securely inside their iPhone.
This is NOT US. We have file reports and emailed and reported. Would appreciate the communities assistance in getting these scamtards out of our lives. PS: We are #Foss4Lyfe https://t.co/SmI8cqNvxA — MyEtherWallet.com (@myetherwallet) December 10, 2017
As the company's mission statement explains, MyEtherWallet.com is a "free, open-source, client-side interface for generating Ethereum wallets & more," so the fake app's $4.99 price tag raises legal questions in addition to the questions of how it got past Apple's app review process in the first place. Tracking service Apptopia told
TechCrunch
that the app's week-long existence on the App Store has seen around 3,000 downloads so far. Apple has yet to comment on the unofficial app's existence and if it will be allowed to remain on the App Store.
Apps for buying and selling cryptocurrency have become popular recently, with one called "Coinbase" -- this one official -- rising to become the #1 most downloaded free app in the United States iOS App Store last week. This happened after the price of bitcoin rose past $17,000 and saw a price jump of over 20 percent in one day. As the app climbed the App Store charts amid the bitcoin frenzy, Coinbase servers crashed for much of last Thursday, affecting both its website and the iOS app's performance.
Update: Apple appears to have pulled the app from the App Store.