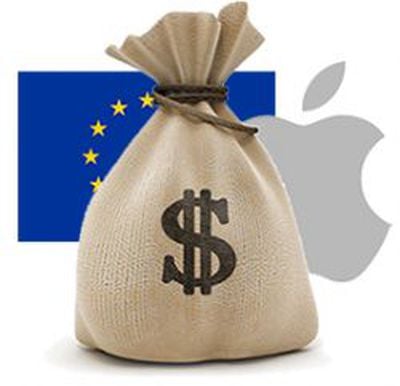 In August 2016 the European Commission ruled that Apple must repay 13 billion euros ($15.46 billion) in back taxes dating between 2003 and 2014. According to the EU, the taxes were avoided with the help of sweetheart tax deals from Ireland, and today The Wall Street Journal reports that Apple will now begin paying these back taxes "as soon as early next year."
Ireland's Finance Minister, Paschal Donohoe, reports that Apple and Ireland have agreed to terms of an escrow fund for the money, setting a pace for Apple to begin repaying the taxes in Q1 2018. Apple's payment will sit in the escrow fund while both sides continue to appeal the EU's decision in court.
In October 2017, the EU announced its intention to take Ireland to court for its failure to recover Apple's back tax sum, with Ireland citing the escrow account as the reason why negotiations and repayment were being held up. Now, Donohoe said the next steps will be to determine who operates the escrow account and who manages the fund once Apple begins the repayment process. The EU said that it will only close court proceedings against Ireland once Apple's back taxes are recovered in full.

Ireland will begin collecting €13 billion ($15.46 billion) in back taxes from Apple Inc. as soon as early next year after both sides agreed to the terms of an escrow fund for the money, Ireland's finance chief said Monday.

In a statement, Apple said, "We have a dedicated team working diligently and expeditiously with Ireland on the process the European Commission has mandated. We remain confident the General Court of the EU will overturn the Commission's decision once it has reviewed all the evidence."
The center of the EU's argument is that Irish revenue commissioners gave Apple unfair advantages between 1991 and 2007 by allowing the company to move income from the European market through two "non-resident" head office subsidiaries based in Ireland.
Ireland's government has stated it "fundamentally disagrees" with the EU's analysis of the tax situation, leading to its appeal. For Apple, the company said that the EU made "fundamental errors" in the calculations related to the taxes it owes, arguing that the bulk of the profits during this period are due in the United States. Apple CEO Tim Cook put it more succinctly after the first ruling came out, calling the tax avoidance claims "total political crap."
Note: Due to the political nature of the discussion regarding this topic, the discussion thread is located in our Politics, Religion, Social Issues forum. All forum members and site visitors are welcome to read and follow the thread, but posting is limited to forum members with at least 100 posts.