Vivaldi web browser, the spiritual successor to Opera 12, released version 1.13 on Wednesday, introducing an easier way of managing multiple tabs, as well as new file download features and other improvements.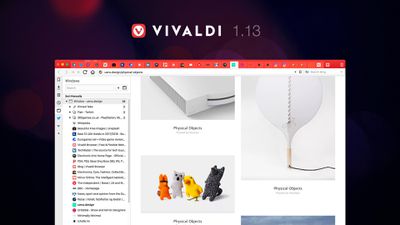 In line with the Norwegian team's aim to make Vivaldi the most feature-rich and customizable browser available to power users, the developers have created the new Window Panel. This opens a tree-style view of tabs to the side of the browser window, offering an easy overview of all open tabs as a list.
From there, users can conveniently manage tabs by dragging them to change their order, grouping tabs by topic to save space, tiling Tab Stacks to compare several web pages side by side, and hibernating unused tabs or Tab Stacks for better performance.
Within the new Panel, it's also possible to mute sound in specific tabs and pin tabs to ensure they always stay open. The Vivaldi team says it is planning to bring even more functionality to this feature in the near future.


The latest release of the Vivaldi browser also brings a number of improvements to file downloading, based on community feedback. Users now get a warning dialog when closing the browser before a download is complete. It's also now possible to pause and resume downloads, while a download speed indicator has been added to the progress bar.
Elsewhere, Vivaldi's window handling code has been rewritten, providing performance benefits that are especially noticeable on older, slower hardware.
Vivaldi browser is a free download for Mac available directly from the Vivaldi website.