Popular long-form writing suite Scrivener reached a significant milestone late on Monday, with the long-awaited release of its third major iteration since its debut on Mac over a decade ago. Scrivener 3 brings a host of new features and improvements, including an overhauled interface with a more modern look, and a Compile system that is easier to use but also more flexible.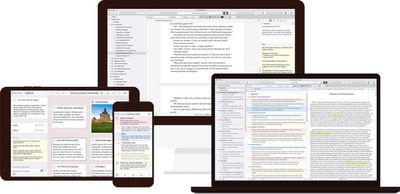 The Compile window has been redesigned to present users with formatting options for exporting their project, a preview pane, and settings for the project, offering a more streamlined system for regular users but also quick access to more advanced options. In addition, support for ePub 3 and enhanced compatibility with the Kindle format are also now available.
Meanwhile, a new bookmarking feature in Scrivener's Inspector pane works as a powerful cross-referencing tool, by allowing users to link individual documents in a project to other documents, to other locations on a Mac, or even to locations online.
The application's metadata fields have also been improved, so that users can now use multiple-choice lists, customizable checkboxes, and dates to help organize their documents and research. Both the metadata fields and the aforementioned new bookmarking feature integrate into Scrivener's existing outliner view as well as its search function, making both features more powerful than ever before.


Elsewhere, there's a new, more comprehensive system for styling text in documents, additional writing statistics for keeping track of progress, and a new "Copyholder" feature that enables users to refer to up to four documents in the main window. Draft and session progress bars have been added to the toolbar, while a new "Dialogue Focus" function highlights only dialogue in text. Lastly, the entire app codebase has been re-written for 64-bit, and extensive Touch Bar support has been added.
Scrivener 3 is available now on macOS for $45 from the Literature and Latte website. Customers with an earlier version of Scrivener for macOS that was bought through the web store are eligible for an upgrade discount. Users who purchased Scrivener 2 on or after August 20, 2017, can update to Scrivener 3 for free. Scrivener 1 or 2 users who purchased before that date, can update to Scrivener 3 for the discounted price of $25.