Apple's incoming chief lawyer Katherine Adams has received a generous bonus package in the form of restricted stock units, or RSUs, according to a mandatory disclosure filed with the U.S. Securities and Exchange Commission this week.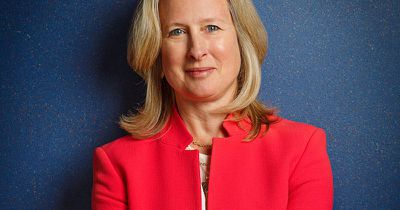 Katherine Adams
The first part of the award consists of 57,482 RSUs that vest in quarterly instalments on the 13th day of May 2018, November 2018, November 2019, and November 2020, so long as Adams remains employed by Apple on those dates.
The second part of the award consists of up to 57,482 RSUs, a percentage of which will vest on October 1, 2020 based on Apple's relative total shareholder return between November 13, 2017 and September 26, 2020.
Based on Apple's performance compared to companies in the S&P 500 over the next three years, Adams can see the second part of her award increased by as much as 100 percent, or decreased to zero if Apple were to underperform.
Based on Apple's closing price of $169.08 on Wednesday, each portion of 57,482 RSUs is worth slightly over $9.7 million for a potential total value of $19.4 million. The amount could be higher or lower based on Apple's performance.
Apple frequently awards its senior executives with restricted stock units as an incentive for them to stay with the company.
Adams will succeed the retiring Bruce Sewell as Apple's General Counsel and Senior Vice President of Legal and Global Security at the end of the year. She was previously general counsel at Honeywell.
Apple's general counsel oversees all legal matters, including corporate governance, intellectual property, litigation and securities compliance, global security, and privacy.