Strong Demand for MacBook Pro Increases Apple's Notebook Market Share in Last Quarter
Apple continued to see strong worldwide sales across its MacBook line-up in the third quarter of 2017, according to new market research conducted by TrendForce. Apple's laptop sales once again exceeded ASUS to rank fourth in global notebook shipments, which overall saw a "remarkable" quarterly increase of 6.8 percent and a year-on-year increase of 0.9 percent, reaching 42.69 million units.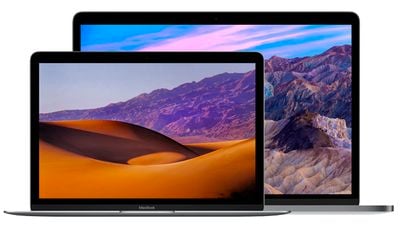 Apple continued the strong shipments of 12-inch products in the second quarter, and focused on the new models of MacBook Pro in the third quarter, recording the third quarter shipments of 4.43 million units and an increase of 11.3%. It exceeded ASUS to rank the fourth in this third quarter.
HP recorded a new high in its quarterly shipments, which increased by 17.6 percent, reaching a single-season shipment of 11 million units for the first time. HP is expected to achieve the annual goal of 40 million units, which will secure its first place in 2017 global notebook shipments ranking.
Lenovo recovered somewhat from a poor first half of the year, recording 8.58 million units for third quarter shipments and a 6.5 percent quarterly growth. In the fourth quarter, it is estimated to have another 1 to 3 percent growth.
Dell shipped 665 million units in the third quarter with a quarter-on-quarter increase of 1.4 percent, maintaining its third place in the rankings. ASUS and Acer ranked fifth and sixth, shipping 3.82 million and 3.31 million units respectively.


During a recent earnings call, CEO Tim Cook revealed that Apple's Mac division set a new all-time revenue record of $25.8 billion for fiscal 2017. Apple sold 5.4 million Macs during the September quarter, up 10 percent over last year, and gained significant market share as the global market contracted by one percent, according to IDC's latest estimate. The performance was reportedly fueled by big demand for the MacBook Pro, said Cook, and Mac revenue grew 25 percent to a new September quarter record.
"We had outstanding results all around the world in each of our geographic segments, growing Mac revenue by 20 percent or more," said Cook. "We were also very happy with the success of Mac in the education market, where customer purchases grew double digits year over year."