Apple is $100 Billion Away From Becoming World's Only Trillion Dollar Company
Apple shares are currently trading for around $175, giving the iPhone maker a market cap of roughly $900 billion. The valuation puts Apple within $100 billion of becoming the world's only trillion dollar company.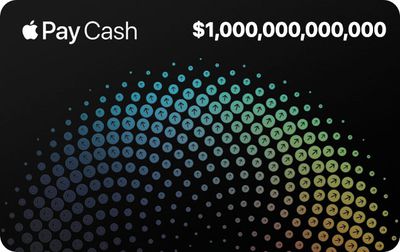 Apple shares will have to rise to around the $195 mark for the company to reach a trillion dollar valuation, depending on the rate of its share buybacks, and an increasing number of Wall Street analysts think that will happen.
Drexel Hamilton analyst Brian White, who is extremely bullish about Apple, has a lofty 12-month price target of $235 for the company's stock. In other words, he forecasts that Apple could be a $1.2 trillion company within a year.
With a market cap of over $900 billion, we believe Apple is on its way to becoming a "trillion dollar baby" as reflected in our price target. We were the first on Wall Street to project that Apple would reach a $1 trillion market cap as reflected by a price target; our current price target of $235.00 equates to approximately a $1.2 trillion market cap.
RBC Capital Markets analyst Amit Daryanani has also said Apple has the potential to achieve a trillion dollar market cap, and even surpass that valuation, by the end of 2018. His current price target for Apple shares is $190.
Apple could be the world's only trillion dollar company, but it wouldn't be the first. The spice trading Dutch East India Company, founded in 1602, was the first to go public and at one point was valued at over $7 trillion when adjusted for inflation.
Wall Street analysts, including White, have been prognosticating Apple becoming a trillion dollar company since as early as 2012.