Twitterrific for Mac received a new update on Tuesday, adding a host of new features and improvements including the ability to quickly search for a user, restoration of Searches and Lists between launches, improved syncing of the reading position, and a unique experimental feature – Twitter poll detection.
According to the developer's notes, Twitterrific now attempts to automatically detect when a tweet in the user's feed contains a poll and displays a new status button at the bottom of the tweet to indicate this.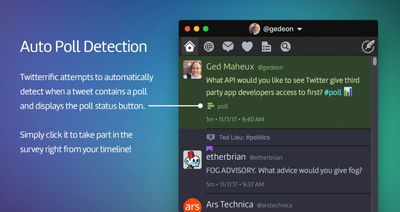 Clicking the button opens the poll in an integrated mini-browser that users can then use to submit their vote. Like the app's other popover windows, the poll can be detached from the main timeline to let users keep up to speed with incoming results.
The feature is labeled "experimental" because Twitter doesn't make an API available for third party apps to recognize polls in user feeds, so Twitterrific has to look for specific markers that give clues a tweet might be a poll. These markers include hashtags like #poll, the graph showing incoming results, and the ballot box emoji.
The app also looks for specifically structured questions to identify polls, according to the developers, and if any of these factors are positive, the poll status button is displayed. As it is, polls can only be created through official Twitter channels, but tagging said tweets with #poll will help let other Twitterrific users know they can take part.
Twitterrific 5.2 for Mac is available as a free update on the Mac App Store [Direct Link]. The app is $19.99 for new users.