Apple is likely to expand its supply chain for Apple Watch, following significant unit growth for the wearable over the third fiscal consecutive quarter this year (via DigiTimes).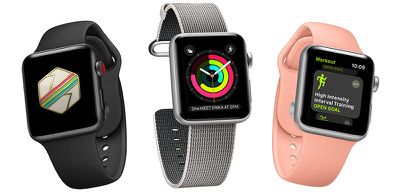 Apple Watch's overall shipments are expected to reach at least 25 million units in 2018 and most of the sales will be contributed by first-time buyers instead of replacement demand from users of previous-generation models, the sources estimated.
During last week's earnings call, Apple CEO Tim Cook said Apple Watch had seen unit growth of over 50 percent for the third consecutive quarter and "continues to be the best selling and most loved smartwatch in the world".
The fiscal quarter ended September 30, so it's not clear how many Apple Watch Series 3 units were included in the recorded growth and Apple doesn't provide a breakdown of numbers. The Apple Watch Series 3 was released on September 22. Cook also revealed that Apple's entire wearables business was up 75 percent year over year in the fourth quarter, and in fiscal 2017, already generated the annual revenue of a Fortune 400 company.
Apple's upstream suppliers include Quanta Computer, Universal Scientific Industrial (USI), Career Technology, Kinsus Interconnect Technology and E&R Engineering, all of which are expected to see increasing orders for the Apple Watch, according to sources.
Foxconn affiliate ShunSin Technology has also recently landed orders for providing SiP (system in package) packaging services to Apple Watch and are said to begin the supply in March 2018. The fact that ShunSin is entering the supply chain means Foxconn may also have interest in obtaining Apple Watch assembly orders, according to market watchers.