Face ID Unlocks an iPhone More Slowly Than Touch ID, but is Faster in Day-to-Day Usage
Apple's new Face ID facial recognition system coming in the iPhone X unlocks an iPhone more slowly than Touch ID did, according to Tom's Guide.
Tom's Guide is one of the sites that was provided with an iPhone X for evaluation this week, and reviewer Mark Spoonauer compared Face ID and Touch ID unlocking times with a stopwatch.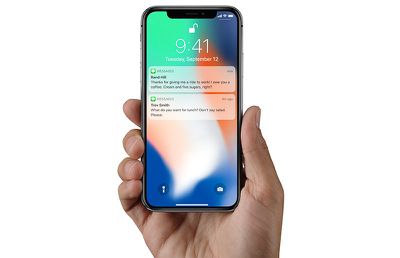 I've been using Face ID on the iPhone X for more than 24 hours, and I don't need a stopwatch to tell you that it unlocks my phone slower than when I was using Touch ID on my older iPhone 7 Plus. I used a stopwatch app anyway to prove my point.
It took 1.2 seconds for Spoonauer to unlock the iPhone X from pressing the side button on the side of the device and another 0.4 seconds to swipe up to get to the lock screen, while getting to the Home screen on an iPhone 7 Plus using Touch ID took 0.91 seconds.
When using Raise to Wake and swiping up on the display as the iPhone is recognizing a face (as Face ID is meant to be used, according to John Gruber), unlocking was faster at a total of 1.16, but Spoonaeur still found it to be slower than Touch ID.
In a raw comparison like that, Touch ID seems like the faster unlocking method, but as TechCrunch's Matthew Panzarino points out, in actual day-to-day usage, Face ID has benefits over Touch ID because it's a more streamlined interaction.
With Touch ID, to do something like open up a notification, you need to tap the notification and then use Touch ID to open the notification, a two step gesture. With Face ID, it recognizes your face as the phone is raised while you're tapping the notification, a quicker, less involved action.
Panzarino says that while Face ID is slower when placed head to head with Touch ID, it's "much more fluid and faster to actually 'do things.'"
Face ID is a first-generation technology, and early Touch ID was also much slower than it is today. In the future, Face ID will improve and get much faster, but even in the interim, it seems to be a more natural biometric authentication method that won't require thought or attention once users become accustomed to the way that it works.
Right now, Face ID is only available to a select number of people who have been provided with early iPhone X review units, but once it launches on Friday, we'll have a much better understanding of just how it works and how it compares to Touch ID in real world usage.