iOS 11 Bug: Typing 1+2+3 Quickly in the Calculator App Won't Get You 6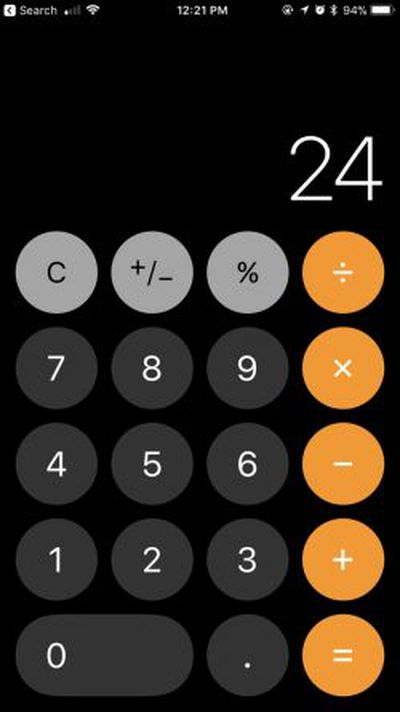 A bug in the built-in Calculator app in iOS 11 is getting some major attention this week, despite the fact that it's been around since iOS 11 was in beta testing.
At issue is a calculator animation that causes some symbols to be ignored when calculations are entered in rapid succession. You can try it for yourself: Type 1+2+3 and then the equals sign into the Calculator app quickly.
Due to animation lag introduced when adding two or more numbers together, your result is more likely to be 24 than 6.
The same goes for many other calculations -- the Calculator ignores some inputs unless you're entering numbers slowly enough to account for the light-up button animations that highlight the keys that are being pressed. Symbols do not register when tapped while a number button is still highlighted, resulting in incorrect calculations if you're inputting numbers quickly. Reddit user cplr describes the problem:
Any iOS developers will see what is wrong here: the bug is that the animation that lights up the button is blocking touch events until the animation completes. This is the default behavior for animations, but to make an app feel responsive it's best to find a way around that (it can be a one line fix, but sometimes it is complicated).
There are hundreds of complaints about the problem on reddit this week, but it's an issue that's been discussed on the MacRumors forums since the iOS 11 beta testing period. Throughout the beta testing process, the animation lag was not addressed, nor has it been fixed in any of the iOS 11 updates released so far. It's also still present in iOS 11.1.
Some users have experienced similar issues when using older versions of iOS, but the animation lag is noticeable enough in iOS 11 to make the Calculator nearly unusable when attempting to make rapid calculations.
Apple seem to be aware of the issue, because as The Loop points out, Apple employee Chris Espinoza says more than 70 people have filed a Radar report on the bug, alerting Apple to the problem. With it receiving so much attention, we could potentially see a Calculator fix in the next iOS 11 update.
In the meantime, iOS users who need a reliable alternative can use third-party apps like
Calcbot
and
PCalc
.