Apple Receives FCC Approval for iPhone X Ahead of October 27 Pre-Orders
Apple today received approval from the United States Federal Communications Commission for its upcoming iPhone X models, meaning the devices have passed all of the requisite tests and are cleared for sale.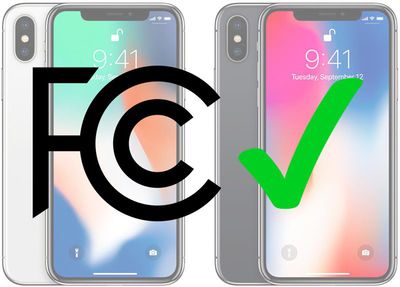 Since the iPhone X was introduced, Apple's iPhone X product pages have included the following footnote noting that FCC approval had yet to be obtained:
iPhone X has not been authorized as required by the rules of the Federal Communications Commission. This device is not, and may not be, offered for sale or lease, or sold or leased, until authorization is obtained.
The FCC must approve all radio-transmitting devices before they are able to be legally sold in the United States, including all iPhones. The FCC's program is designed to ensure that RF devices in the United States "operate effectively," do not cause harmful interference, meet human RF exposure limits, and comply with other FCC rules.
Three iPhone X models have been approved for sale by the FCC, so Apple will now be able to remove that wording from the iPhone X site. FCC approval for the iPhone X comes just over three weeks ahead of when Apple will accept pre-orders for the device.
iPhone X pre-orders will start on Friday, October 27 ahead of an official launch date on November 3.
Supplies of the iPhone X are expected to be heavily constrained due to production issues with the TrueDepth camera used for facial recognition, so the device is likely to be hard to come by for the remainder of 2017 and into the early months of 2018.