A major new version of iStat Menus, a popular Mac system monitor for power users, has been released today for macOS High Sierra.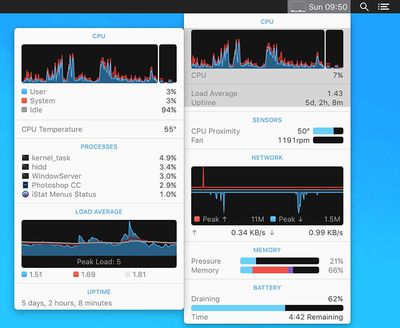 One of the biggest new features in iStat Menus 6 is configurable notifications for a wide range of events, based on CPU, GPU, memory, storage disks, networking, sensors, battery, power, and weather.
iStat Menus now has a Notification Center widget for CPU usage, memory, top CPU and memory processes, load averages, disk space, and uptime.


You can be notified, for instance, when your public IP has changed, if your internet connection is down, if CPU usage is above 60 percent for more than 10 seconds, or even of daylight saving time changes.
iStat Menus 6 features an all-new weather menu with the current temperature and conditions, hourly and weekly forecasts, notifications, and more. Weather-related notifications can be configured.


The update also introduces new ways to color and style the menu bar icons, dropdown menus, and graphs, including light and dark backgrounds.


Another key feature is hotkeys support for opening and closing dropdown menus using your keyboard, including time, CPU, GPU, memory, storage disks, networking, sensors, battery, power, and more.
Other changes include improved accessibility, localization, AirPods battery level support, dropdown menu reordering, automatic fan set switching based on events, and many other new features outlined in the version history.
iStat Menus is built into the macOS menu bar, providing power users with convenient access to system information, such as CPU and GPU usage, memory stats, fan speeds, temperatures, disk usage, and battery life.


iStat Menus 6 is available now for $18 on developer Bjango's website. Existing users with version 3.0 or later can upgrade for $9.99.
macOS High Sierra was publicly released on the Mac App Store today. iStat Menus 6 is also compatible with OS X El Capitan and macOS Sierra.