iPhone X Production Faces Further Delays, Will Start in Mid-October
Final production on the iPhone X has yet to start, even though Apple will begin taking orders for the device in just over a month. Raymond James chip analyst Christopher Caso conducted supply chain checks this morning and then shared what he learned about Apple's production schedule in an investor's note obtained by Barron's.
According to Caso, while there were already production delays affecting the iPhone X, further delays have occurred recently. He says production is set to start in mid-October, later than earlier predictions. With additional delays, full production ramp up will be delayed into the December quarter.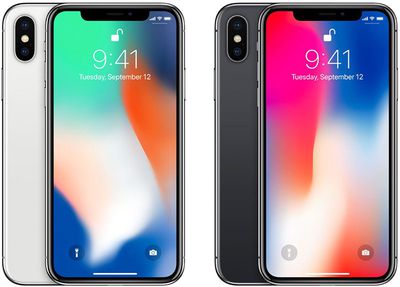 Interestingly, while the industry widely anticipated a shift in iPhone ramp timing, our checks suggest there was an incremental delay in the build plans - with orders firmed up as recently as last week - shifting production more into the December quarter.

While our checks are ongoing, initial feedback from our meetings suggests that final production of iPhone X has not yet begun, with production expected to commence in mid-October. That production start is about a month later when compared to expectations a month ago, and about 2 months later than expectations at the end of June. Notably, this is consistent with commentary from Diodes last week suggesting the timing had changed since reporting June quarter results and is important as it relates to tone and expectations for the December quarter.
We've already known the iPhone X is going to be severely constrained, but hints of further delays suggest supplies could be more restricted than originally thought.
With the iPhone 8 and the iPhone 8 Plus seemingly not garnering as much interest from customers as previous smartphones launched in fall, it seems there could be quite a lot of Apple fans who are holding out for the iPhone X.
It could be months before Apple has adequate supply to meet demand for the $999 device. Reliable KGI Securities analyst Ming-Chi Kuo, for example, has said it could take well into 2018 for Apple to fill all orders.
The iPhone X will be available for pre-order on October 27, with the device to officially launch on November 3. Pre-orders will undoubtedly sell out rapidly so all but the luckiest customers may need to wait for several weeks to get their hands on one of the new flagship devices.
The iPhone 8 and 8 Plus, launching this Friday, should be readily available at retail stores around the world.