Multimedia software maker Magix is offering MacRumors readers an exclusive discount, knocking the price of its advanced audio waveform editor SOUND FORGE Pro Mac 3 bundle down to $249, a savings of over $300 compared to the regular price of $557 for the entire bundle.
SOUND FORGE Pro Mac 3 is an advanced audio editing suite with multi-channel recording and editing, mastering for music and dialogue clips, and support for high-resolution audio recording at 24 bits with sampling rates as high as 192kHz. Users can edit down to the sample level and have access to customizable window layouts and configurable viewing panels to enable a streamlined workflow.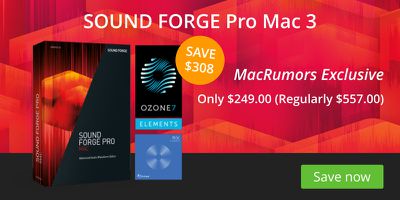 Note: MacRumors is an affiliate partner with Magix
Magix notes that SOUND FORGE Pro Mac 3 was optimized and designed for macOS, and can work with both native and third-party plug-ins. Here are a few other features found in the software:

Precise Editing - Configurable viewing panels enable you to toggle between multiple open files and configure open projects for easy access to the editing features you need. Easily switch between time-based or event-based editing modes.

Loudness metering - Precisely calibrated AES/EBU loudness meters help you make use of the entire dynamic range for broadcast audio while you ensure compliance with standards such as the CALM Act (Commercial Advertisement Loudness Mitigation Act).

Interoperability with SpectraLayers Pro 4 - SOUND FORGE Pro Mac 3 offers a complete round-trip workflow with SpectraLayers Pro 4. Experience the best of both waveform editing and spectral editing.

Disc-at-Once CD Burning - Burn all open files directly to a Redbook compliant, replication-ready master CD. Or add track markers to a single-file recording of a live set and burn a gapless, disc-at-once, Redbook standard audio CD.

File Conversion Automation - The standalone batch processing application included with SOUND FORGE Pro Mac automates multiple file processing in a single operation. Convert to a new file format, add processing and effects, add metadata including art work, to multiple files in a single batch process.

Audio Effects - Improve the quality of your audio or create unique sounds using the included processes and effects. To add more sound-shaping possibilities, SOUND FORGE Pro also supports 64-bit Audio Units (AU) and 64-bit VST 2.x plug-ins.
In addition to the base SOUND FORGE Pro Mac 3 software, the bundle offer also includes iZotope's RX Elements and Ozone Elements tools, normally priced at $129 each. RX Elements offers spectral editing capabilities and four additional audio-enhancing plug-ins, while Ozone Elements includes professionally designed presets and precise macro controls to help guide users into making "a full, rich, and loud final master."
SOUND FORGE Pro Mac 3 supports Mac computers running OS X Mavericks 10.9 and newer, with an Intel Core 2 Duo, Core i3, Core i5, Core i7, or Xeon-Processor, as well as 2GB RAM and 200MB of hard drive space. Check out Magix's specifications page for more information.
Visit Magix's website to find additional details and purchase SOUND FORGE Pro Mac 3; no coupon or discount code is required to take advantage of the discount. The offer ends on Friday, October 13.
The MacRumors Deals Roundup has all of the latest Apple-related discounts, so check it out if you're looking for even more information on current sales.