Intel Debuts New Xeon-W Chips Possibly Destined for iMac Pro
Intel today introduced its new Xeon-W workstation-class processors at the IFA trade show in Berlin, and the new chips line up nicely with the processor capabilities we're expecting to see in the iMac Pro.
The new chips, which use an LGA2066 socket and Skylake-SP architecture, come in 8, 10, and 18 core configurations with Turbo Boost up to 4.5GHz, 48 PCI Express 3.0 lanes, and support for up to 512GB of DDR4–2666 ECC memory.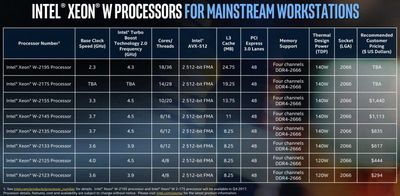 Click to enlarge


Apple has said the iMac Pro will feature Intel's Xeon processors, with 8, 10, and 18 core chips available as optional configurations with up to 42MB cache and maximum Turbo Boost up to 4.5GHz.
Specifically, Apple could be planning to use the 8-core 3.7GHz Xeon W–2145, the 10-core 3.3GHz Xeon W–2155, and the 18-core 2.3GHz Xeon W–2195. Pricing on the chips starts at $1,113, but a price is not yet listed for the high-end 18-core processors.


According to Intel, the Xeon-W chips offer a 1.87x boost in performance compared to a 4-year old workstation with an Intel Xeon E5–1680 v2 Romley processor, like the 2013 8-core Mac Pro, and up to 1.38x higher performance compared to previous-generation Xeon E5–1680 v4 chips.


Intel plans to release its high-end 18-core chips in the fourth quarter of 2017, which also lines up with the target release date of the iMac Pro. The other chips may see earlier release dates.
Though Xeon-W chips do appear to work for the iMac Pro, there is still some question as to whether they're the chips Apple plans to use. A June report from Pike's Universum suggested Apple would use Intel's server-grade Purley processors with an LGA3647 socket rather than the desktop-class LGA2066 socket.
That information was based on firmware files found in the macOS High Sierra beta, but it's possible it was inaccurate. Intel announced some Purley chips in July, but that announcement did not include chips that would be appropriate for the iMac Pro.
Along with Xeon processors, the iMac Pro will include Radeon Pro Vega graphics, up to 4TB of solid state storage space, four Thunderbolt 3 ports, up to 128GB of ECC RAM, and a redesigned thermal architecture to support those components.
Rumors based on firmware findings suggest the iMac Pro could also include a Secure Enclave with an ARM coprocessor like the MacBook Pro with Touch Bar, but it's unclear at this time what that functionality will be used for as Apple has made no mention of Touch ID support.
The iMac Pro is positioned as a workstation class machine aimed at pro users with demanding workflows, and it's priced accordingly. When it launches in December, pricing for the iMac Pro will start at $4,999.