Verizon Introduces New Unlimited Data Plans, Limits Video to 720p For All Smartphone Customers
Verizon today split its unlimited talk, text, and data plan into three tiers: Go Unlimited, Beyond Unlimited, and Business Unlimited. The plans go into effect for new customers starting Wednesday, August 23.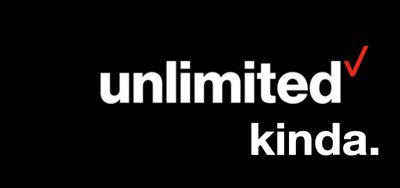 Go Unlimited starts at $75 per month, which is $5 cheaper than the original Verizon Unlimited plan introduced in February. However, while Verizon Unlimited allowed for full HD video streaming, video quality on Go Unlimited is forcibly throttled to 480p, which Verizon and many other carriers refer to as DVD quality.
Go Unlimited customers can also experience reduced speeds if the network is congested at any time, rather than only after exceeding 22GB of data usage in a billing cycle. And while Mobile Hotspot is unlimited, tethering speeds are capped at a maximum of 600kbps from the very first kilobyte of usage.
The original Verizon Unlimited plan allows tethering at 4G LTE speeds for the first 10GB of data, with speeds reduced to 3G afterwards.
Beyond Unlimited starts at $85 per month, which is $5 more expensive than Verizon Unlimited. The plan includes unlimited tethering with the first 15GB of data at 4G LTE speeds, up from 10GB, but video quality is forcibly throttled to 720p quality on smartphones and 1080p quality on tablets.
Beyond Unlimited customers could experience reduced speeds at times of network congestion once they exceed 22GB in a billing cycle, in line with the original unlimited plan. Verizon increases that limit to 25GB for customers who sign a two-year contract when purchasing a new device.
Business Unlimited is designed for four or more lines and starts at $45/month/line. Each line could experience reduced speeds at times of network congestion after exceeding 22GB in a billing cycle, and video quality is throttled to 480p. Unlimited tethering is included with 4G LTE speeds for the first 10GB of data.
AutoPay and paperless billing must be enabled for all of the prices listed above, or else each plan costs $5 extra per month.
Verizon told The Verge that existing customers will be able to keep their current plan — including legacy ones. As a bonus, for existing customers on the original Verizon Unlimited plan introduced in February, Verizon is increasing the allowance for 4G LTE speeds while tethering from 10GB to 15GB at no charge.
However, the biggest kicker is that Verizon says, moving forward, HD video on all legacy plans will match Beyond Unlimited's HD quality. In other words, even grandfathered customers will soon be limited to video quality of 720p on smartphones and 1080p on tablets, which is sure to elicit some frustration.
"We're doing this to ensure all customers have a great experience on our network since there is no visible difference in quality on a smartphone or tablet when video is shown at higher resolutions," a Verizon spokesperson said.
As for the increased prices, Verizon says its unlimited data plan from February was an "introductory" price that was bound to increase eventually.