Some Apple Park Employees Said to Be Dissatisfied With Open Office Design
During a new episode of The Talk Show on Daring Fireball, John Gruber touched on the topic of the open floor plans that Apple has implemented within its new campus, Apple Park. Unlike office spaces at One Infinite Loop and other Apple-owned buildings -- which give most employees their own office -- Apple Park sports a large open floor plan with long tables for programmers, engineers, and other employees to work at.
Apple Park's open office spaces have been highlighted in numerous profiles on the campus, most recently by The Wall Street Journal in July, and now Gruber has reported that he's received emails from numerous Apple employees who are particularly dissatisfied with the design (via Silicon Valley Business Journal).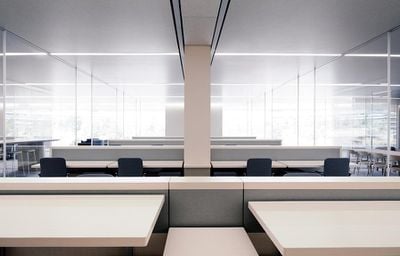 Standing desks within one of Apple Park's open offices
Judging from the private feedback I've gotten from some Apple employees, I'm 100% certain there's going to be some degree of attrition based on the open floor plans. Where good employees are going to choose to leave because they don't want to work there.
One source is said to have been with the company for 18 years. They emailed Gruber, telling him that they're working on something that is "going to blow people's minds when we ship," but before that happens their team is transitioning to Apple Park. Gruber noted that the email was very level-headed and had a "perfect Apple sensibility," but the source nevertheless said that if they don't like the Apple Park workspaces, they're likely to leave the company after the product ships.
Gruber said he got a "couple of similar emails," with employees stating that they won't outright quit before they move to Apple Park, but if it's as bad as they think it's going to be then they will consider leaving Apple. During the podcast, Gruber and special guest Glenn Fleishman pointed out numerous disadvantages to an open work space, particularly for coders and programmers who aren't used to a lot of foot traffic and noise in their vicinity while they work.
Gruber went on to mention Apple vice president Johny Srouji as one of the employees dissatisfied with the Apple Park office spaces. Srouji was allegedly so against the changes that Apple "built his team their own building" outside of the main spaceship building.

"I heard that when floor plans were announced, that there was some meeting with [Apple Vice President] Johny Srouji's team," said Gruber. "He's in charge of Apple's silicon, the A10, the A11, all of their custom silicon. Obviously a very successful group at Apple, and a large and growing one with a lot on their shoulders."

Gruber continued, "When he [Srouji] was shown the floor plans, he was more or less just 'F--- that, f--- you, f--- this, this is bulls---.' And they built his team their own building, off to the side on the campus … My understanding is that that building was built because Srouji was like, 'F--— this, my team isn't working like this.'"
The idea that open work spaces at Apple Park could potentially "irk" employees goes back to some of the original profiles on the building. Last year, Bloomberg explained that there will be "few traditional offices" at Apple Park, and management will have to be at a vice president level or above to get their own formal office space, although there is reportedly potential for employees below this level to be eligible. During the company's presentations to the Cupertino city council, Apple's viewpoint indicated an open floor plan is "conducive to collaboration between teams."
In other Apple Park news, some Snapchat users have recently noticed that a handful of construction workers and visitors at the campus have been taking enough snaps to accumulate into a Snapchat Story of its own. If you're on the app, you can search "Apple Park" from the main screen to find the Story. The new "Snap Map" also shows an increase in picture-taking activity at Apple Park.


Apple Park opened to the first round of employees over the summer, and the campus will eventually house close to 12,000 workers. Over the past few years, drone footage has consistently documented construction on the site, originally referred to as Apple Campus 2, with more recent updates focusing on the advancements made to the area's landscaping and the Steve Jobs Theater.