Latest Drone Footage Reveals Landscaping Progress in Apple Park's Inner Circle
Drone videographer Duncan Sinfield posted a new video on his YouTube channel today, offering a "late July" bird's eye view of Apple Park, the company's new headquarters in Cupertino, California.
Sinfield's video reveals landscaping around the campus has picked up momentum in the last few weeks, with a large grove of trees in the inner circle of Apple Park being the clearest sign of progress.
When finished, Apple Park will be surrounded by some 9,000 trees. The landscaping is being overseen by an arborist personally chosen by the late Steve Jobs, who believed trees would be one of the most important parts of the Park and represent a microcosm of the old Silicon Valley, when there were said to be more fruit trees than engineers.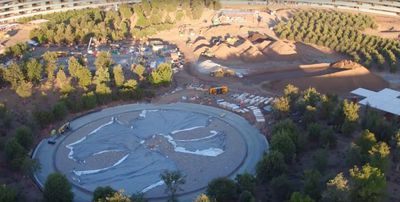 Tantau Avenue, which runs along the east side of the campus, has been closed to vehicle traffic for much of July as Apple works rapidly to finish the Visitor's Center ahead of the official opening day. Apple started hiring employees last month for the Visitor Center, which will include an Apple Store and a public cafe.
Earlier this month we got a glimpse of Apple Park's Glendenning Barn, a historic landmark that the company carefully dismantled piece by piece and relocated to another part of the site, which was formerly a HP campus.