Apple TV tvOS Simulator Shown Running in 4K Resolution
Developer Steve Troughton-Smith today shared the spoils of his latest hacking efforts by tweeting screenshots of Apple's tvOS Simulator running in 4K – the screen resolution said to be supported in a rumored fifth-generation Apple TV.
tvOS is officially made to run in the standard 1920x1080 HD resolution, but what Troughton-Smith's hack shows is that the Apple TV operating system is perfectly suited to running at double the pixel density (3840x2160), commonly referred to as 4K resolution, thanks to user interface assets like text and icons that are made to scale cleanly given the same aspect ratio.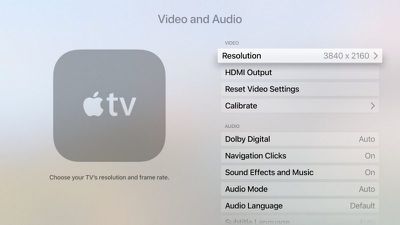 The simple scale doubling is reminiscent of the 2x iOS asset resolution requirement that Apple introduced back in 2010 with the arrival of Retina displays, and comes at a time when Apple is
rumored
to be readying a new, fifth-generation Apple TV capable of streaming 4K video.
Just last weekend iOS developer Guilherme Rambo discovered a reference to a 4K HDR display mode in the HomePod's firmware, which has proved a trove of hints related to Apple's upcoming hardware releases. MacRumors subsequently discovered the string J105a in the HomePod firmware, consistent with the fifth-generation Apple TV's internal codename first revealed by Bloomberg in February. Additional strings unearthed in the code also suggest a forthcoming Apple TV could support both the Dolby Vision and HDR10 color formats for high-dynamic range video.

tvOS Simulator scaled to 2x resolution for 3840x2160
Adding further fuel to rumors of an imminent 4K-capable Apple TV, Apple
recently listed selected movies as 4K and HDR
in iTunes purchase history. While the content is still only playable in standard definition or HD, the change suggests Apple is preparing to offer the higher definition formats for a new TV box.
The launch date is unclear for a possible new Apple TV, which has been rumored since December 2015, but given the recent uptick in references to 4K resolution by Apple, it's not unreasonable to suggest the company could be readying a release for the new TV box before the end of the year.