Apple Updates 'Clips' Video App With Disney Characters, New Graphics Overlays
Apple today updated its video creation app Clips with a handful of new features, introducing new graphic overlay options and support for Disney and Pixar characters.
Clips, first released back in April, is designed to let users combine several video clips, images, and photos with voice-based titles, music, filters, and graphics to create videos that can be shared in Messages and via social networks.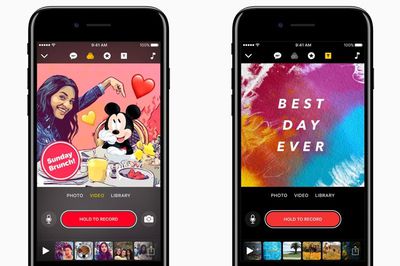 With today's update, Apple has added dozens of new graphic overlays and animated poster designs to enhance text-based additions that are added to videos. Posters range from glistening water to slow motion billowing smoke and 3D art.
Apple has also partnered with Disney to introduce animated overlays featuring classic Disney and Pixar characters. Animated overlays, which are akin to stickers, can be added to videos and photos. Available characters include Mickey Mouse, Minnie Mouse, Donald Duck, Daisy Duck, along with those from both Toy Story and Inside Out.
Clips was released as a standalone app in April, but Apple has made it a default pre-installed app on new iOS devices, making it more readily available to customers.
The new update is available today from the App Store. [Direct Link]