Apple Cracking Down on VPN-Based Ad Blockers That Work in Third-Party Apps
It appears Apple may be cracking down on some VPN-based ad blockers that are designed to block ads in third-party apps, based on a recent interaction iOS developer Tomasz Koperski had with Apple's App Store review team.
Koperski is the CTO of Future Mind, a software company that produces AdBlock, Weblock, and Admosphere, three ad blocking apps. When submitting an update for AdBlock for iOS, a VPN-based ad blocking app, it was rejected.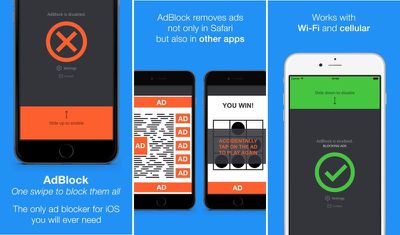 Upon appeal to the App Review Board, Koperski was told Apple is no longer allowing VPN/root certificate-based ad blockers on the App Store and will not be accepting updates of existing ad blockers that use those techniques going forward. According to Apple, Future Mind's AdBlock app violates section 4.2 of the App Store Review Guidelines, which dictates that apps must be useful, unique, and "app-like."
Specifically, the app violated section 4.2.1, which says "Apps should use APIs and frameworks for their intended purposes and should indicate that integration in their app description," and to get even more specific, Future Mind was told the update was rejected because "Your app uses a VPN profile or root certificate to block ads or other content in a third-party app, which is not allowed on the App Store."
Koperski was told that Safari content blockers, introduced in iOS 9, will be the only Apple-supported ad blockers going forward, and those ad blockers are limited to use in the Safari web browser.
After submitting an appeal to the App Review Board, a member of the Review Team contacted me directly via phone and informed that Apple has officially changed their policy regarding VPN/root certificate based ad blockers on the App Store and is no longer accepting updates of apps, which directly block content in third party apps. The only officially allowed ad blocking method is now Safari Content Blockers.
Koperski says that the change marks a major shift in Apple's ad blocking policy, as Future Mind has had its ad blocking products in the App Store for the past five years. AdBlock, the app that Apple rejected, has been available for purchase since 2014, and it was one of the first VPN-based ad blockers able to block ads in all apps locally on both Wi-Fi and Cellular.
There are dozens of similar ad blocking apps available in the App Store at the current time, some that were updated as recently as June. It's not clear why Apple has changed its policy after so many years, but many apps, including native apps like Apple News, feature ads as a way to monetize.
Apple has recently undertaken a major overhaul of the App Store, eliminating clone apps, outdated apps, and more, so it's possible this new crackdown is a part of that effort. Since late 2015, Apple marketing chief Phil Schiller has been overseeing the App Store and has enacted some significant changes.
Future Mind was told the AdBlock app could be updated if it switches from ad blocking via VPN to the Safari Content Blocker, but the company is worried about upsetting customers who paid for the ability to block ads in both Safari and in apps. The company has not yet decided what to do and is mulling several possible choices, including leaving the app as is, expanding existing functionality into a VPN service, or transitioning to a Safari-only blocker.