Apple's upcoming range of new iPhones could be hit by a 30 percent shortage in the supply of storage capacity chips, according to a new report by DigiTimes on Thursday.
The article claims that both SK Hynix and Toshiba have suffered from lower-than-expected yield rates for their 3D NAND flash chips, resulting in fewer supplies available for Apple's 2017 series of iPhones. Apple is said to have called on Samsung in an effort to secure more.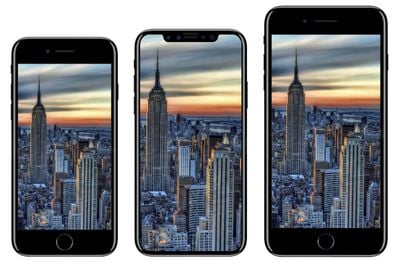 Apple has turned to Samsung for more NAND chip supplies for its upcoming phones, since Samsung has relatively stable yield rates for 3D NAND technology and has scaled up its output of 3D NAND chips, the sources indicated.
Apple began using non-volatile 3D NAND chips in its mobile devices last year because of the technology's ability to pack more storage space into equivalent dimensions compared to previous flash memory. However production of the chips is a more delicate process, and it looks as if Apple's priority suppliers haven't been able to increase their yield sufficiently to provide for the devices the company is planning to launch in 2017.
Apple's reliance on Samsung to shore up the supply isn't exactly out of the blue. Back in April of last year it was reported that Samsung would again become an Apple supplier of NAND flash chips, ending a five-year hiatus dating back to the iPhone 5 in 2012.
Apple is expected to announce a "tenth anniversary" OLED iPhone in September alongside more typical "S" cycle updates to its iPhone 7 and 7 Plus. One rumor has suggested the so-called "iPhone 8" will include increased storage space, while two additional rumors say it will be available in 64 and 256GB capacities.