New 27-Inch iMac Has Up to 80% Faster Graphics at Compute Tasks Compared to Previous Model
Earlier this month, Apple launched new iMac models with Intel's seventh-generation Kaby Lake processors and improved AMD Radeon Pro discrete graphics options at its annual Worldwide Developers Conference.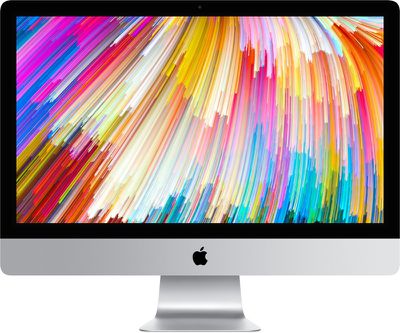 Early benchmark results for the new 27-inch iMac have already surfaced on Geekbench that suggest the 2017 models are up to 15% faster in multi-core CPU performance compared to last-generation models.
Apple's new high-end 27-inch iMac stock configuration with a 3.8GHz quad-core Core i5 processor has an average multi-core score of 14,886, for example, compared to 12,953 for the equivalent 2015 model.


John Poole of Primate Labs, the creators of Geekbench, said the new 27-inch iMac also has up to 80% improved graphics performance compared to the equivalent 2015 models at compute tasks such as image processing.
Geekbench's new GPU Compute Benchmark measures the performance of GPUs at performing compute tasks such as image processing, computer vision, and physics simulations, rather than rendering tasks.


Poole said compute performance is becoming more important as more applications, such as Photoshop, take advantage of GPU compute.
The built-to-order 27-inch iMac with a 4.2GHz quad-core Core i7 processor is Apple's fastest Mac ever in single-core CPU performance, according to the Geekbench results, continuing a trend set with the late 2014 model. The 2013 Mac Pro remains Apple's fastest Mac in multi-core CPU performance on Geekbench.
That will undoubtedly change in December when Apple launches the iMac Pro with workstation-class tech specs, including up to an 18-core Intel Xeon processor, top-of-the-line Radeon Pro Vega graphics, up to 4TB of SSD storage, and up to 128GB of ECC RAM. iMac Pro will start at $4,999 in the United States.
The new 27-inch iMac starts at $1,799. New 21.5-inch models are also available from $1,099. Prices vary by country.