Apple's 'Stopping Leakers - Keeping Confidential' Employee Seminar Leaks Online
New information about the lengths that Apple will go to in order to prevent and track down leaks has been shared online today by The Outline, which obtained a leaked recording of an internal briefing used by Apple to educate employees on the culture of leaks. Called "Stopping Leakers - Keeping Confidential at Apple," the presentation is said to last one hour and be led by a team of Apple's best security and communications experts including David Rice, Lee Freedman, and Jenny Hubbert.
The briefing was held for around 100 employees earlier this month and is believed to be the first of many such secretive events planned by the Cupertino company. The presentation included information on Apple's Global Security team, which employs an undisclosed number of investigators worldwide "to prevent information from reaching competitors, counterfeiters, and the press." The team is stacked by former members of the NSA, FBI, Secret Service, and U.S. military, and when leaks do occur, they hunt down sources to relay the information back to Apple headquarters.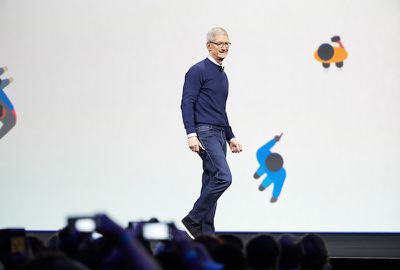 Throughout the presentation, short videos were played that show Apple CEO Tim Cook presenting a new product on stage during one of the company's keynote addresses, reminding employees of the importance of its big reveals.

After the first video concludes, Hubbert addresses the room. "So you heard Tim say, 'We have one more thing.' So what is that one more thing?" she asks. "Surprise and delight. Surprise and delight when we announce a product to the world that hasn't leaked. It's incredibly impactful, in a really positive way. It's our DNA. It's our brand. But when leaks get out, that's even more impactful. It's a direct hit to all of us."
Although former CEO Steve Jobs was well known for his intense secrecy, Tim Cook is continuing those efforts with force as well, according to Apple vice president of iPod, iPhone, and iOS product marketing Greg Joswiak.

"This has become a big deal for Tim," Greg Joswiak, Apple's Vice President of iPod, iPhone and iOS product marketing, says in one of the videos. "Matter of fact, it should be important to literally everybody at Apple that we can't tolerate this any longer." Later, Joswiak adds that "I have faith deep in my soul that if we hire smart people they're gonna think about this, they're gonna understand this, and ultimately they're gonna do the right thing, and that's to keep their mouth shut."
The briefing then looked into the "behind the scenes of leaks" that have happened from Apple's supply chain and in Cupertino itself, with Rice stating that Apple has so successfully reduced factory leaks last year that 2016 was the first year that Apple's campuses leaked more information than its supply chain. He even compared Apple's screening of its factory workers to be more intense than that of the TSA.
Although leaks from its own campuses have increased recently, Rice ensured the employees gathered that Apple does not have "a Big Brother culture" overseeing every move of every employee. Still, The Outline points out that the presentation didn't shy away from Apple's more intense mandates for preventing leaks, with Rice encouraging employees to be constantly vigilant about what they say in front of friends, families, and fellow employees.

"I go through a lot of trouble not to talk about what I work on with my wife, with my teenage kids… with my friends, my family," an employee in one of the videos says. "I'm not telling you that you give up all relationships," Rice says, "but that you have a built-in relationship monitor that you're constantly using." Apple employees are expected to be discrete in their own office. The hallway and the Apple lobby are referred to as "red zones," which "aren't places to talk," Rice says. The fear of accidentally "breaking secrecy" may be why some newly hired Apple employees tend to delete their Twitter accounts.
During the confidential presentation, Apple assured workers that they could discuss the more normal aspects of the job with anyone they want, like how "crappy [their] boss is," their pay, or report to the authorities if they witness illegal activities. But, continuing the theme of the briefing, Joswiak said that he ultimately hopes all Apple employees "do the right thing, and that's to keep their mouth shut" regarding any unreleased hardware or software information.
Leaks and information surrounding the unreleased "iPhone 8" are suggested as a reason behind Apple's upping of anti-leak education among its employees in Cupertino. So far, we have a pretty good picture of what the smartphone will look like when it launches this fall, including the addition of an OLED screen that measures 5.8 inches, Touch ID integrated under the display, a dual-lens rear camera, and with support for wireless charging.
The Outline has a full report on "Stopping Leakers - Keeping Confidential at Apple" and it's well worth a read.