Apple to Expand Siri to Work With More Types of Third-Party Apps
At its Worldwide Developers Conference next week, Apple is expected to expand Siri's functionality, allowing the voice assistant built into the iPhone and iPad to work with a wider variety of apps, reports Reuters.
Apple first started allowing third-party apps to interface with Siri with iOS 10, but Siri integration is limited to apps in the following categories: ride booking, messaging, photo search, payments, VoIP calling, and fitness. In iOS 11, that's expected to expand to additional categories, but it is unclear which categories will be added.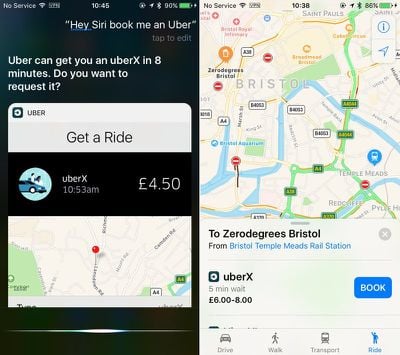 Apple Inc is expected to announce plans next week to make its Siri voice assistant work with a larger variety of apps, as the technology company looks to counter the runaway success of Amazon.com Inc's competing Alexa service.

But the Cupertino, California company is likely to stick to its tested method of focusing on a small amount of features and trying to perfect them, rather than casting as wide a net as possible, according to engineers and artificial intelligence industry insiders.
Expanded third-party app access to Siri is one of the few tidbits we've heard about Apple's plans for iOS 11, which is also expected to feature new design elements and a revamped Apple Music app. Rumors suggest Apple has been working on significant improvements to Siri, so other Siri features could also be included.
Part of the reason behind bolstering Siri's capability is likely Apple's work on a Siri-based smart speaker designed to compete with the Amazon Echo and the Google Home. It's not yet clear what the speaker will be capable of, and it isn't included in today's Reuters report beyond a brief mention, but to be competitive, the speaker will need to interface with third-party apps much like iOS.
Rumors suggest there is a chance Apple plans to introduce the Siri speaker at WWDC to allow developers time to create integrations and features for the device ahead of a fall launch, but whether that will happen remains to be seen.
Apple's Siri and speaker plans will be unveiled on Monday, June 5 at 10:00 a.m., which is when the WWDC keynote event kicks off.