Elgato today announced the latest product in its Eve series of HomeKit-connected devices, debuting the Eve Degree. Eve Degree is a HomeKit-compatible temperature and humidity monitor with a fresh design featuring a large display housed in a sleek aluminum body.
Elgato already makes a temperature and humidity monitor, the Eve Weather, but the new Eve Degree features an entirely different design and a visible temperature display for instant feedback with no need to check the Eve app to get a reading.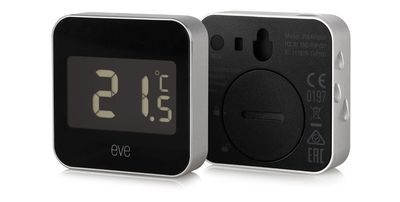 While the display means a quick temperature or humidity check doesn't require opening the accompanying Eve app, the app does store additional information, including climate data over time presented through graphs.
Eve Degree works indoors or outdoors thanks to a splash proof IPX3 water resistance rating, and it includes a replaceable battery that will allow it to function for several months at a time without needing to be recharged.

"Eve Degree is a luxurious and classy thermometer but, more importantly, it is seamlessly integrated into iPhone," says Florian Albrecht, Director User Experience, Elgato. "By leveraging the strengths of HomeKit and the Eve app, Eve Degree offers reliable usability, superior privacy, and advanced security.
With HomeKit support, temperature readings from the Eve Degree show up in the dedicated Home app, and it can answer to Siri queries and interface with other HomeKit-compatible products. With an Apple TV Home hub, Eve Degree is able to serve as a trigger for scenes, doing things like turning on a fan when the humidity gets too high, or turning on a humidifier when it's dry.
Eve Degree will be available from the Elgato website starting Tuesday, June 6 for $69.95.