A new report on Friday added support to the claim that Apple is facing higher component costs for this year's highly anticipated OLED iPhone, which some analysts believe will carry a "premium" price tag compared to previous models.
The 3D Touch module in the redesigned handset will cost 150 percent more than the equivalent parts in LCD-based iPhones, according to the Chinese-language Economic Daily News. Touch panel manufacturer TPK charges between $7 and $9 per unit for 3D Touch parts in the existing iPhone range, but that price will double for the new model to between $18 and $22, claimed the paper.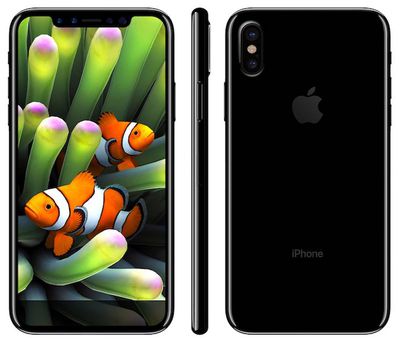 The hike in price is said to be down to the fact that, in contrast to LCD screens, OLED displays require a separate protective glass bonding on both the front and rear of the panel before the 3D Touch sensors can be applied.
For 3D Touch solution used in existing iPhone series, TPK and fellow maker General Interface Solution (GIS) quote US$7-9 per smartphone. The solution directly bonds 3D Touch sensors on LTPS TFT-LCD display panels of the iPhone, but 3D Touch solution for OLED panels entails bonding of a glass cover on the front and back side of an OLED panel each to reinforce the fragile OLED panel.
The processing cost for the OLED-based 3D Touch solution is reportedly only 50 percent more than the LCD-based solution, but Apple suppliers TPK and GIS are said to be quoting three times that. The reason appears to be down to TPK's bargaining position, bolstered by the fact that the company has passed official certification for the OLED-based solution.
Variously referred to as "iPhone 8", "iPhone Pro" and "iPhone X" by media outlets, the tenth anniversary edition model could cost upwards of $1,000, according to one report claiming knowledge of Apple's plans. The premium tier device is expected to feature a radical redesign with a flat edge-to-edge screen which is more expensive to produce.
In addition, a virtual home button, a 3D-sensing front-facing camera, a vertically oriented rear dual-lens camera, and some form of wireless charging are also expected to feature, along with fingerprint, face, and iris recognition, all of which will likely drive up the price because of the intricate manufacturing processes involved. The handset is rumored to be launching in September alongside more typical "S" cycle iPhone models to succeed the iPhone 7 and 7 Plus, although shortages of the premium model could potentially occur due to delayed production.
(Via DigiTimes.)