Cultured Code today officially released an all-new version of Things, the personal task manager software for Mac, iOS, and Apple Watch.
Things 3 brings an overhauled user interface and multiple new features to the to-do apps, which continue to use Things Cloud to seamlessly sync across devices.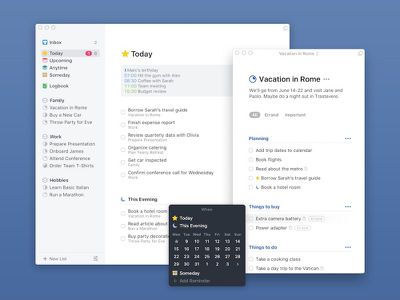 First up is the new design, offering a stripped-down look that aims to integrate the old features with the new, and put user content front and center. For example, to-dos are adaptive to their content, and can look like straight text on a piece of paper, or include additional details like tags, checklists, a start date, or a deadline. These fields also respond to a range of gestures (drag and drop, swipe, tap to expand, mark complete) to make organization easier.
Other refinements include the ability to search across the entire app by pulling down inside any list to trigger Quick Find, which offers immediate access to to-dos, lists, tags, and more. There's also a progress indicator for projects, indicating their status at a glance.


The Today and Upcoming screens have been re-imagined, and now display both calendar events and to-dos together, with events for the day shown in a timeline at the top. Every day at midnight, the next day's to-dos appear at the top of the Today list. There's also a new section called "This Evening" to make it easier to structure your day.
Things 3 also introduces headings, which can be used to break up milestones in projects and make them easier to grasp. Another new structural tool are checklists within individual to-dos, making it possible to break down tasks even further.
In addition, Things 3 features a new way to create to-dos called the Magic Plus Button. The button lives in the corner of the screen and can be either tapped or dragged up to a particular list to generate the to-do in a specific location. The button can also be used to quickly create and place headings in new projects.
Elsewhere, the iOS app now offers multiple item selection and easier list editing interactions, while the macOS version features a Slim Mode for better focus and the ability to open multiple windows with drag-and-drop support between them. Time-based reminders have also been added to the task manager, offering instant sync between devices. And a new feature called Type Travel enables fast navigation to any project, area, or to-do in the app.
Finally, the all-new Things brings an updated Apple Watch app, Wunderlist/OmniFocus import, a new structure for Areas, and Touch Bar support on MacBook Pros.
The apps will be available in the App Store as one-time purchases for Mac ($49.99), iPad ($19.99), and iPhone/Watch ($9.99). They are a paid update for existing customers, who can take advantage of a 20% discount on all apps during launch week (offer ends on May 25). A 14-day trial of Things for Mac is available on the Cultured Code website.