Apple's Carnegie Library Store in Washington, DC to Respect Historic Context With Subtle Branding, Community Focus
Following a few reports from last year that centered upon Apple's intent to restore the historic Carnegie Library in Washington D.C. and outfit it as a prime destination for Apple retail, the company has now shared a few renderings and details about the location with The Washington Post.
The location will be home to Apple's new "Today at Apple" events, which will include concerts, art exhibitions, photography classes, coding sessions, and more. Still a retail location, Apple will generate customer interest in purchasing a new product through its Genius Grove, where users can get product assistance on a tree-lined sales floor. The Genius Grove will be located where the Carnegie Library's book collection was previously housed.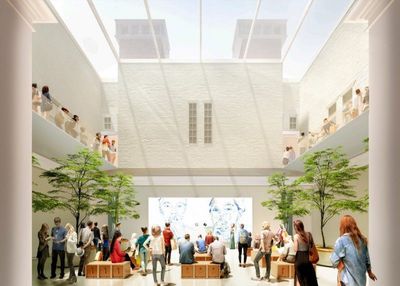 What long ago were reading rooms would become places to browse and sample Apple products.

"This is a way of creating a reason to come to the store, to touch and feel our products, but also to have an engaging experience with someone who is passionate about the same thing," said B.J. Siegel, Apple Retail's senior design director.
One of Apple's major intentions for the Carnegie Library location is to make its presence there subtle while restoring the building to its "original grandeur." The Apple logo won't be prominently featured on the sides of the Carnegie Library, and the company hopes that it will "take a little work to find the store's signage and logo." In the render below, the logo appears as small double signage flanking the main entrance to the building.
Carnegie Library is said to take on the history-focused renovations of previous Apple retail locations, including Apple Opéra in Paris and the upcoming location in Brooklyn. Although Apple plans a few changes to Carnegie Library, like a major new skylight above a central events area, the company's intent to find and preserve historic landmarks beloved by a local community is "part and parcel to the experience Apple is trying to create," according to Apple Retail senior design director B.J. Siegel.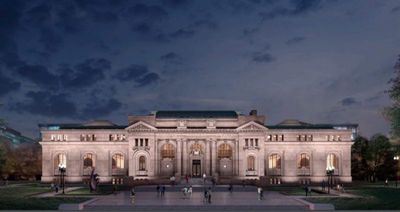 Rather than plastering the buildings with the company's logo, Apple's designers say they will focus on restoring the building's historic character. It can take a little work to find the store's signage and logo — which is the point.

"For us, it wasn't about coming in and leaving our mark," Siegel said. "It was about bringing the history back out and respecting it."

"We've discovered that big garish logos on historic buildings don't work very well, so often we try to find more subtle ways to brand the building," he added.
For its part, the Washington, D.C. government is on Apple's side, with mayor Muriel E. Bowser stating that Apple's location in Carnegie Library "could link D.C.'s rich history to our continued economic renaissance, will demonstrate the strength of our retail market, and will tell companies across the globe that the District is open for business." The Historical Society of Washington D.C. will remain in offices on the second floor of the building.
Later this evening, Apple is set to present its plans to the Advisory Neighborhood Commission in Washington, D.C., but the exact opening date for the Carnegie Library location has not yet been set.